Jaremko Claims Fourth DSR Title
Articel by Erin Cechal. Photo provided by Weber.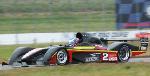 Mark Jaremko, of Spokane, Wash., blew away the rest of the D Sports Racing field at Heartland Park Topeka to claim D Sports Racing crown number four at the 2006 SCCA National Championship Runoffs. John Bender, of Vancouver, Wash., and Dorian Foyil, of Nassau, Bahamas, completed the podium.


Polesitter J.R. Osborne, of Centennial, Colo., looked like the man to beat as his No. 83 Equinox Group/Farcon Stohr WF1 took the lead into Turn One, but Jaremko's No. 2 Goodyear/Redline Oil Stohr WF1-BPS quickly slid by Osborne on the following corner. Osborne didn't even have a chance to challenge Jaremko, as he pulled into the pits on lap two with mechanical issues.

After only three laps, Jaremko had more than seven seconds on the No. 11 West Race Cars West WR 1000 of Bender in second-place. That gap was erased when a car stuck off course brought out the full-course yellow on lap five. Nothing could stop the Jaremko show however, and when the green flag waved for the restart, the former DSR champion resumed his dominant pace, averaging 75.551 mph around the 2.5-mile track.

"The race went pretty well obviously," Jaremko said. "When the weather changed, it changed the whole setup of the car. We struggled with that all day and for the race we had it set up for wet, then for dry, and back and forth. It was hard to make a decision as to which setup to use. The fellows at Stohr Cars made the right choice and the car worked on cold tires, and it was good on both starts. The track was horrible, as bad as I have seen it. There was mud and oil everywhere. It was pretty slippery."

Behind Jaremko, Bender's runner-up position came under threat in the closing laps, when traffic came into play and allowed the No. 81 Stohr WF1 of Foyil to get within striking distance. Foyil was unable to capitalize and Bender held on to the second spot.

Steve Shelton, of Fort Lauderdale, Fla., and Mark White, of Waunakee, Wis., finished-out the top five. Michael Reupert, of Hubertus, Wis., won the Sunoco Hard Charger Award for advancing 12 positions during the race, from 20th to eighth.

sourced from
[ Jaremko Claims Fourth D Sports Racing Championship ]



Labels: Race Results, Runoffs