Few Surprises After Runoffs® Qual 1
Photos provided by Lee Stohr.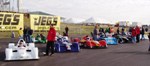 The results from the first of four qualifying session were viewed, via Live Timing feed, for the SCCA's 2006 Runoffs. Former DSR standout, Mathew DiRenzo, raised a few eyebrows when his top S2 time bettered multiple S2 National champion John Fergus by almost 2 seconds.

Photos provided by Lee Stohr.



DSR





The first DSR Qualification session saw 31 cars post times. John Hill is not at the track yet, understandably waiting at home with his expectant wife. 1.5 second was the separation between the pair of Mark Jaremko in his own Stohr WF1-BPS (1:33.377) and J.R. Osborne in another
Stohr WF1 (1:34.003), back to third place John Bender in a West WR 1000 (1:35.679). David Rigon driving the lone factory Gloria B6S posted a 1:36.824 for forth, followed by Steve Shelton in another Stohr WF1 (1:37.209) in fifth.



Leading the unoffical non-tunneled DSR sub-class was Kevin Mitz in his Cheetah SR1 (1:42.534) in 11th position, followed by Tom Bootz and his Speads RS (1:42.581) in 12th, then Bill Johnson in a Swift (1:42.812) in 13th.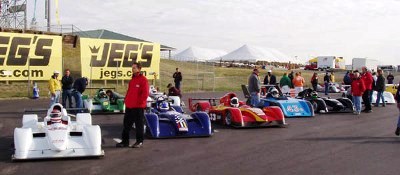 [ DSR Qual 1 Results (web page) ]
[

DSR in Acrobat pdf format ]



CSR



The combined CSR and S2000 afternoon Qualification session had the top three spot separated by only tenths of a second. Wade Carter in his Swift 008 Viking set the top time (1:33.219), followed by Hans Peters and his Swift 014 Viking (1.33.358) in seocnd, with Mark Jaremko in his "DSR spec" Stohr WF1-BPS (1:33.573) in third. Kerry Jacobsen in a Panoz Elan Dp02 (1:34.786) claimed the forth spot, follwed by Ken Davis and his Lola (1:40.414) in fifth.

[ CSR Qual 1 Results (web page) ]
[

CSR in Acrobat pdf format ]



S2



Matthew DiRenzo, posted the fasted time for the S2 class (1:41.495) with his unique JRE SR-71F car, 7th fasted time of the combined session with CSR. Multiple National champion John Fergus had the second fasted time in S2, almost 2 seconds behind DiRenzo (1:43.292) in his Carbir CS2. Third fasted was Michael Bautz in a Lola T90/90 with a best lap of 1:43.580. Mark Mercer in his Lola 91/90 (1:44.096) was in forth, then M. Bart Wolf in a Carbir CS2.5 (1:44.158) in fifth.

[ S2 Qual 1 Results (web page) ]
[

S2 in Acrobat pdf format ]

[ Live SCCA Runoffs Time feed ]


Labels: Runoffs