Miller Claims Inaugural NASA SU Championship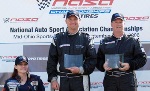 Jeremy Miller, driving a Suzuki Hayabusa powered first generation Stohr CSR, was crowned the 2006 National Champion in the Super Unlimited class by the Nastional Auto Sport Association.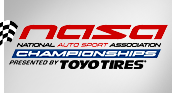 Miller's bright yellow sports racer circled the Mid-Ohio track at the front in the two qualifying races on Friday and Saturday, earning the pole position for Sunday's main race. Miller's best time in the race, run with the chicane between turn one and the keyhole, was a 1:31.161 lap. He battled a Competition Viper and a Porsche for the pole and overall win on each of the three race days, but was under little pressure for the final race win.

Jeremy has been running with NASA for a few years in a Porsche 993 and bought his Stohr CSR about a year ago. He runs an unmodified stock Suzuki engine becasue it's fast enough for now. He's located on the east coast and would like to see more sports racers to come race with him at NASA events.

NASA Championships (pdf file)

Group D race results (pdf file).


Labels: NASA, Race Results