Fusion Racing Starts Build Blog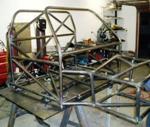 Fusion Racing is sharing their progress toward completion of the cars (the new FR-C01 CSR , FR-D01 DSR, and closed cockpit version of the CSR) which they announced in the February 2006
Sports Car
magazine buyers' guide, [mentioned in our
previous news article
].


The intial entry, in their Blooger.com build diary, simply shows laser cut Chromoly tubes for chassis 001 & 002 laid out on the shop floor, organized into sub-section.

Fusion will be sharing the layout of tubes in jig, welding of sub-sections, and marrying of sub-sections to form complete chassis. The work along the way will shown for at least chassis #001 and #002 in their shop.

Check out the series of photos and comments on their
Fusion build blog.

Further images and information are available on the
Fusion Chassis page.

Fusion Racing's website.


Labels: New Cars