Phoenix Offers New SR07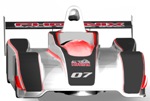 Phoenix Race Cars, Inc. has announced its newest entry into the highly competitive Sports Racer market. The new car, dubbed the Phoenix SR-07, is the next-generation Sports Racer from the manufacturer based in Phoenix, AZ.
Changes to the new car are extensive and are the result of over a year of evaluation and re-engineering, culminating in a car which will be competitive at any level of racing.

The car is being made available in two configurations designed for the SCCA Club Racing market. The SRD-07 is ready to enter the SCCA DSR category and comes equipped with an approximately 175hp, race-prepped Suzuki GSX-R1000 engine built by George Dean's Racing Engines. For the CSR crowd, the SRC-07 is available with a 200hp, race-prepped Kawasaki ZX-12R engine also built by George Dean's Racing Engines. A roller, dubbed the SRX-07 can also be made available for those that wish to install their own engine package.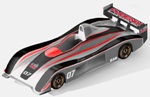 "We have put a considerable amount of time in developing the Phoenix SR-07 and we think potential buyers will see the value in the car right away," said General Manager of Phoenix Race Cars, Matt Conrad. "We targeted several aerodynamic and chassis improvements for this car and are very pleased with the results."

Major breakthroughs in the car have come in a significant weight reduction, dramatic improvements in the aerodynamics package as well as a minor update to the chassis to improve overall handling characteristics and to also increase rigidity and strength.

"Essentially, we've nearly doubled the downforce on the car with only a 10% increase in drag," said Conrad. "Combine that with a stronger, lighter and more rigid chassis and we clearly have a car that will be easily competitive against other brands that are out there at a significantly lower price."

A full list of updates and a detailed spec sheet with pricing is coming soon and will be available at www.phoenixracecars.com, or contact Matt Conrad at Phoenix Race Cars, Inc. at 623-581-3222.


Labels: New Cars