Gloria Confirms US Sales & Support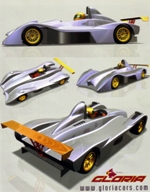 Following an encouraging response to their introduction at the December 2005 PRI Show in Orlando, Gloria Racing Cars decided to make thier cars available in the United States through thier US subsidiary that will be managed by entrepreneur and racing professional Gabriele Pedone. Philip Creighton and his team will also be involved in Gloria's expansion plan as their technical support department.


Gloria has applied to IMSA for constructor status for their new B6S Sports [Racer] in their newly launched IMSA Lites 2 Series. While waiting for approval the entire Gloria team is feverishly working in order to be ready for the first race of the season in May.

Both the single seater and the sports racer Gloria models will also be available for SCCA racing as soon as the Sports Car Club of America homologation process is completed.


"Gloria racing cars were successfully launched in Italy in 2002 by Enrico Glorioso, the entrepreneur who in 1977 founded Sparco and built it to a $63 million business before selling the company to a group of investors. Gloria has been a long time idea of mine, says Enrico Glorioso Founder and President of Gloria s.r.l., and the concept behind it is that I wanted to offer young drivers an affordable way to move up from karting towards professional racing". Gloria is headquartered in Cambiano, an automotive industrial hub near Torino, Italy, in a 15,000sq.ft. state of the art race shop.

The Gloria business model effectively blends the rather sophisticated and the simple with great emphasis on cost-effectiveness. The Gloria engineering design calls for a very safe, but lightweight tubular steel chassis powered by a 1000cc motorcycle engine that provides an incredible weight/power ratio. The car meets all FIA regulations and features a carbon fiber nose crash box. The body is all fiberglass and the open wheeler displays anti takeoff devices for additional safety. This innovative formula convinced the Italian Auto Racing Federation to adopt Gloria as its official constructor for the Italian championship: Formula Azzurra Michele Alboreto Trophy."

In addition Gloria welcomes and supports the grass-root movement that hopes to create the F1000 class that runs open wheel cars with 1,000cc motorcycle engine such as the Gloria B5.

For more details, contact Gabriele Pedone via email gloriacars@aol.com.
Or check company details and car specifics at www.gloriacars.com


Labels: New Cars