PSRS 1: Hill claims DSR, Carter win CSR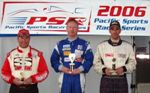 Report and photo by Lee Stohr


The 2004 National Championship winning cars in CSR & DSR were piloted to easy wins at the first race of the Double National at Phoenix, AZ. The race was also the first event in the 2006 Pacific Sports Racer Series.
Rick Lee and Wade Carter battled together in their Swift Vikings for most of the race for the CSR and overall win. Rick had a problem and lost a couple laps in the pits. Wade won by 7 seconds ahead of John Hill in the new Stohr WF1 DSR. John and Wade lapped the entire field.

Kevin Mitz moved into second early on in his Cheetah. Kevin was flying today, he turned a 59.5. Unfortunately, some fuel pickup problems dropped him back later. A big battle ensued between Mark Bakhit and Larry Vollum. Larry is from Portland, and has a first generation Stohr updated with the latest WF1 tunnels. Mark did a good job of making his car 'wide' and Larry didn't quite make it past. They finished second and third in DSR. Paul Marciano of PM Motorsports in Phoenix, took 2nd in CSR in a Phoenix chassis. Ken Davis took 3rd in CSR in a Zetec engined Lola S2.

Provisional Race Results

2006 Pacific Sports Racer Series Round 1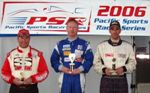 CSR Podium photo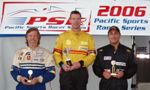 DSR Podium photo

1st CSR Wade Carter 56.8
2nd DSR John Hill 57.7
3rd DSR Mark Bakhit 1:00.3
4th DSR Larry Vollum 58.99
5th CSR Paul Marciano 1:01
6th CSR Ken Davis 1:03
7th DSR Harvey Goldman 1:02
8th DSR Kevin Mitz 59.5
9th CSR Rick Lee 56.8
10th CSR Richard Cottrill 1:05
11th CSR Michael Vellone 1:11

Qualifying Results

CSR Rick Lee Viking 55.999
CSR Wade Carter Viking 56.176
DSR John Hill 2005 Stohr WF1 56.5
DSR Mark Bakhit Stohr 58.6
CSR Paul Marciano Phoenix 1:00.8
DSR Kevin Mitz Cheetah 1:01.0
DSR Harvey Goldman Stohr 1:01.9
CSR Ken Davis Lola 1:02.1
CSR Richard Cottrill Speads 1:03
CSR Don Simons 1:09
CSR Michael Vellone Ralt 1:12
CSR Renny Damon 1:14
DSR Larry Vollum, no transponder, start at back

Read more details in this topic on the sports racer forum.

Photos from the event here and here.

The weekend started badly when Matt Conrad crashed his Phoenix coming off the banking. It was reported that his brake pedal went to the floor. It was also reported that an a-arm barely missed his legs. Matt was taken to the hospital but was fine. Matt put in a lot of effort organizing the first race of the 2006 Pacific Sports Racer Series.

Matt later reported,
"2nd session of the day and just getting a few warm-up laps in before I start to click some good one's off. Down the front straightaway in sixth gear, probably 135mph and find no brake pedal.....and I mean pedal on the floor....not good.

I know I have the oval off to my right to work with but I need to be smooth getting across the grass strip between the infield course and the main track, but a white Stohr is in front of me and he has brakes so he's slowing. I clip his right rear with my left front and it's "blue sky" time. Corner workers say many flips in the air before coming down wheels down. I only thought I went up and then came right back down on my wheels...don't know.

Once I did come down I saw blue again....the unfriendly baby blue PIR wall....and I slammed into it very hard. I even thought before the hit that it was going to hurt bad. I hit at about a 45 degree angle and then the rear slapped the wall very hard as well. I did hit in an area where the SAFER barrier was installed.

The safety workers needed about 20 minutes to get me out of the car because one of the right front a-arms penetrated the cockpit and pierced both of my pant legs, my right shoe and my right sock.....but miraculously not my legs.

I do have two minor cracks in my ankle, but otherwise feel great. I was wearing a Hans and I firmly believe that it saved me from serious injury as I hit the wall brutally hard. I'm going to try to pull the data today to find out how many g's.

The corner workers brought a pile of debris and said there were some carbon parts still imbedded in the wall.

The body, floor, wing, chassis, engine, entire right side suspension, front crush box are gone and the car is literally destroyed."
Postscipt after the weekend, Matt reports,
"Just got the data off of the car and unfortunately it looks like the power got cut off .101 seconds after impact. The highest g-force reading recorded was a -4.76. The speed at impact with the Stohr was 129.7 mph and the wall came calling 4.3 seconds later at 117 mph. The impact and the short flight didn't slow me much!

After many discussions with witnesses it appears that I was correct in that the car did not flip in the air....I was airborne (hoorah for all of us ex-paratroopers), but a PIR employee (the guy who fixes the walls) witnessed the whole thing and he said I came right back down on the wheels. He also said the impact was heavy enough to dent the SAFER barrier but not break any of the welds or displace the foam.

Another thing I learned is that the driver in the Stohr was trying to move over as he saw me coming up fast behind him. I couldn't figure out how I hit him because I thought I was clear of him. I don't hold him responsible in the least, he was trying to give me the low line into the corner....he didn't know I was in trouble.

I really look forward to getting back out there as soon as I can. Hopefully the Double National at Firebird in March. Thanks to all of you who e-mailed and called with your concerns...I truly appreciate it!

Matt Conrad
Phoenix Race Cars, Inc."
Labels: PSRS, Race Results