$10K Prize for 2006 XSR Champions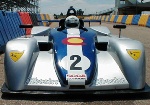 Racing Concepts
is offering $5K to both the 2006 CSR & DSR National Champions at the SCCA's Topeka Runoffs in September. The prize money will be paid to each winning driver if he/she is piloting a SPEADS RS04 to the victory.


See the Racing Concepts wedsite for more information or
contact Bob Schader directly for more details.


Labels: General