Fusion Details Enclosed CSR / DSR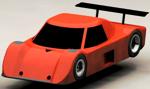 Fusion Racing showed their FRC-06 which will be sold configured for CSR and DSR racing, as well as trackday events. The most significant design element of the car is its enclosed top "Grand Am-like" canopy.


"The Fusion FRC-06 is a two seat, mid-engine sports racer with chromoly space frame, non-stressed engine and full bodywork. Driver protection, structural strength and
construction technology comply with SCCA regulations. Low weight, stock motorcycle drive train and off-theshelf parts yield a unique combination of high performance with economy, making the car affordable to purchase and operate."



Safe and Versitile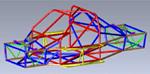 "We made the concept decision that the new car would have an enclosed cockpit in addition to well design crush zones. One only has to look as far as the Rolex series to validate the increased safety of the enclosed chassis."

"Almost on a par with safety was a true 2 seat design. This would give the car the flexibility to serve in a track day capacity as well as pureblood racer. So we created a cockpit that will comfortably accommodate at least a 6'4" 250lb driver & passenger. The chassis also had to have
room for both Motorcycle engine/Quaife LSD or Automotive engine/transaxle combinations."



Engines


The CSR motorcycle engine will be the awesome new Kawasaki ZX-14R, while the DSR will be powered by the Kawasaki ZX-10R (175HP). Fuel injected, naturally aspirated. Stock integral 6-speed sequential gearbox and racing clutch.
Both will transfer their power the rear wheels via a Quaife gear driven
limited slip torque biasing differential with reverse (designed for Fusion)."

There is also the option of having the CSR powered by an 200+ HP automotive engine with Hewland s-speed FTR transaxle.



Suspension Design


"Utilizing software that analyzed all key segments of cornering, 2 months and hundreds of tweaks later [our engineer, Titus Midgley,] had a design that had less than .3 of a degree of camber change and a roll center that moved less than 25 thousands of an inch over the full range of suspension travel."

"It has been the better part of 10 months since we first announced our intentions with that small blurb in the [February 2006] SCCA buyer's guide. In hindsight, it was probably a little premature to say anything but it was either jump in back then or wait another year, and we were confident the car would be on the track before the next buyers guide issue."

More images and specification are available on the Fusion Chassis page.

Fusion Racing's website


Labels: New Cars