Hessel Takes First NASA TT-R Championship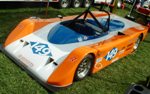 Edward Hessel, driving a 2.3 liter Oldsmobile Quad 4 powered Shannon PS94 CSR, was crowned the 2006 National Champion in the Time Trial-Race class by the Nastional Auto Sport Association.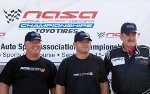 In a best of six timed session format (two sessoins per day), Edward laid down the gauntlet with a lap time of 1:35.050 during the afternoon session on Friday. Fortunately, this lap time held up through the final two timed sessions on Saturday, as the input shaft broke on Edward's transmission during the morning practice on Saturday.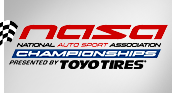 After deciding to venture away from racing his Porsche 993, Edward bought the Shannon and entered NASA Time Trails in 2006 to "learn the car both driving and mechanically." In the TT-R class, he has competed against high powered Corvettes (including a Speedvision one), a 500+ bhp AWD Mitsubishi Evo 8s, an American Stock Car Monte Carlo, and 997 Cup Porsches. In 2007, Edward looks forward to racing his Shannon, wheel to wheel, and attending the "30 Years of S2000" event.


NASA Time Trial

NASA TT is an automobile road course series which provides a venue for spirited on-track competition with a high degree of both safety and convenience. NASA TT allows qualified individuals to compete in a "best lap time" format in a prepared car in advanced level open-passing sessions, and bridges the gap between HPDE 4 and wheel to wheel racing.

The TTR class is designated as a truly unlimited racecar class. It is intended for purpose built, tube frame, never street legal, and very high-end modified streetcars with a low weight/hp ratio. Modifications are completely unlimited, although open wheel cars are not legal.

NASA Championships

NASA Time Trial (NASA TT) Rules (pdf file)

Group I - TTA/TTC/TTR/TTU Results (pdf file).


Labels: NASA, Race Results