Reupert Shows New Engine & Arctic Cat Deal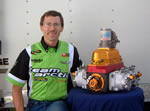 Mike Reupert says, "I would like to invite everyone at the Runoffs to stop by garage # 20 and take a look at our latest DSR engine. It is a 2005 876cc four cylinder two stroke engine. It uses stock cylinders, pistons and heads from a 2005 Arctic Cat engine. I have been working on the design for 3 years, and started actually working on building the engine May 27th."


"I would also to announce Arctic Cat as a new sponsor on our car. More details to come. I hope this helps DSR continue to gain more respect and visibility and help give Arctic cat more exposure to all SCCA members.

The new engine for now uses the same Bendix Fuel injection that we have been using for 20 years. It is a constant flow style injection that is used in small airplanes. Full electronic injection will hopefully come in the next year.
The ignition is controlled by a Motec M-4 Pro ECU.
The engine does come from the factory with computer controlled exhaust timing (note-blocked off on picture above), but I am not sure it would be of any real advantage for road racing at the RPMs we run. (7,000 to 9,500 RPM)"

See more details on the Sports Racer forum here.


Labels: General