Lee Stohr Displays 2006 Car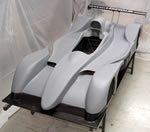 The first photos of Lee's all new car was released today. Lee noted, "The aero and cooling details have already been tested this year on two local Stohr DSR's. The new frame has more leg and foot room."


In replies to a comment that the car looks similar to other sports racers, Lee commented, "The shape of all single-seat sports racers are similar. If you use a overhead snorkel air intake, shrink an engine cover around the transverse bike motor, wrap the rear fenders tightly around the tires for minimum frontal area - then there isn't much left to do but set the rear deck height. That gets into the hard part. All modern LeMans cars use very low rear bodywork between the fenders. This is a tricky structural problem because the a-arms are squeezed very close together, increasing loads considerably. The low deck may give lower drag and work better with the very small rear diffusers required by todays rules. In our classes, we can run big rear diffusers or tunnels, like the old Toyota GTP and Group C Jaguars and Peugeots.
But how to fit a big tunnel under a low deck? And how will the cooling air escape? And how do you keep up the chassis torsional stiffness with practically no space for a frame and a bike motor not designed to be fully stressed ?"

See the Sports Racer forum for more details here.


Labels: New Cars