Small Fortune Unveils Dragon Sr2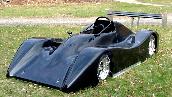 After improving upon their multi- time Solo 2 National Championship winning Dragon Sr1, Small Fortune Racing Enterprises has announced homologation of their Sr2 for DSR. The semi-monocoque aluminum chassis weighs only 790 pounds dry, while utilizing a dry sumped Suzuki GSXR 1000 engine and Quaife TSD. The newly designed Dragon Sr2 bodywork is formed using vacuum bagged carbon fiber.


While the Sr1 was developed over many year via evolutionary changes to an unfinished LeGrand Mk25 (revising suspension, engine, driveline, etc.), the Sr2 is a complete new creation using SFRE designed chassis, uprights, drive system, and proprietary body design. The suspension design utilizes pull rod front actuation and push rods at the rear.

The aerodynamic elements include carbon fiber front splitter, rear underwing, and main wing, all design by SFRE and produced by long time partner Pennon Composites. The Sr2 is built to accommodate a wide range of driver sizes, with features such as a fully adjustable steering mechanism (which adjusts for length, height, and angle) and adjustable pedal cluster.

Bill Gendron of SFRE says, "This purpose built single seat car utilizes a semi-monocoque chassis and state of the art aerodynamics giving every driver the edge that is needed for Club Racing, Hillclimb or Solo competition."



Specifications:


Semi-Monocoque 5052 aluminum chassis, Aircraft riveted
Dry Weight 790 lbs
Wheelbase 87"
Track 52"
Engine - Suzuki GSXR1000
Power to Weight - 4.8 lbs / HP
Body - Design proprietary SFRE, Produced by Pennon Composites
Body Material - Vacuum Bagged Carbon Fiber
Shocks - Moton Double Adjustable
Wheels - Keizer Magnesium



Contact:


smallfortune@juno.com
Small Fortune Racing
69 Stafford Hollow Road
Monson, MA 01057
Phone 413.267.0904

More information and many photos can be seen on the Dragon Chassis page.


Labels: New Cars