Clayton & Son Project Shown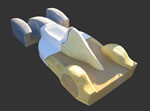 Renny Clayton reports, "Stan, Kevin Mitz and I were all standing around the shop one day, talking about all of the cool new bodies that were coming out, and thinking to ourselves that it would be a lot of fun to build our own. Well, one thing led to another and foam started getting slapped around, leading to the spy photos you see below from earlier this summer:"


See more images and info on the Clayton Body page, here on the Sports Racer Network.

Read more on the Sports Racer forum here.


Labels: New Cars