History
"Powel Crosley of Cincinatti made his fortune in the twenties by developing the first affordable radio for home use, becoming the world's largest radio manufacturer by 1922, when radio was still a novelty. He later produced the Shelvador refrigerator, and acquired the Cincinatti Reds major league baseball team. He still had one unfulfilled dream, that of building a small, very affordable car that we'd call a 'subcompact' today."2
From Appliances to Cars
"The dream became reality in 1939, as over 2,000 80-inch wheelbase cars were sold through local hardware, appliance and department stores, the same outlets that sold his other products. Later an auto dealership organization was created. The prewar cars were powered by a 12 h.p. Waukesha fourcylinder engine, which offered extremely modest performance. Clearly, something better would be needed for success in the postwar market. Crosley introduced disc brakes in 1939, possibly the first volume manufacturer to do so."2
Engine Development
"Under one of his wartime government contracts, Crosley had developed the single overhead cam, four-cylinder "Cobra" engine for the U. S. Navy, intended as a stationary unit. It seemed a natural for the postwar Crosley vehicles. Its construction was unique. The 44 cubic inch power unit had a block fabricated of brazed copper and sheet steel. Developing 26.5 h.p., it weighed just 60 lbs. Problems quickly developed. Electrolysis resulted in holes in the cylinders, so the same engine design appeared with a conventional cast iron block as a remedy in 1949 [as the CIBA engine].
It didn't take racing people long to discover this neat little engine, once its bugs had been worked out. A specialty manufacturer named Braje developed speed equipment for the little motor. Having five main bearings, it was durable enough for serious modification and substantial power output gains."2
Sebring & Le Mans
"In 1949, Crosley introduced the Hotshot, a homely yet cute little roadster with an 85-inch wheelbase. This car found a place in SCCA club racing, but its most famous appearance was at the first Sebring 12 Hour Race in 1950. As at LeMans, an Index of Performance handicap award was offered, which a Hotshot won. Inspired by this success, Phil Stiles and George Schrafft approached Crosley with the intention of competing at LeMans. The factory donated a chassis and engine, and noted Indy car craftsman Floyd Dreyer created a nifty body that looked like a miniature version of the Duesenberg two-man Indy racers of earlier years. They got 45 h.p. out of the 45 cu. in. motor, an impressive feat in 1951. The car was doing well in the race until a generator seized up."2
H Mod Specials
"The potential of the Crosley engine was even noted overseas, as the pretty Italian Siata roadster had the 725 cc engine as one of its power plant options. However, the Crosley motor probably made its most significant competition mark as drivers of home-built, small displacement sports racers realized its possibilities.
In those days, H Modified was the equivalent of today's D Sports Racing class, one for innovative tinkerers. Probably the best known of these was Martin Tanner. He was an advertising executive with no formal technical training, but of obvious talent, since he designed and built cars reflecting flawless workmanship. Best of all, they worked. He created his own tube frame, to which were attached magnesium panels for the floor, trunk and firewall. He crafted an aluminum body. He also obtained 45 h.p. from the Crosley, at 7,000 r.p.m. He employed motorcycle carburetors, tuned exhaust and a special camshaft. Fiat suspension pieces were used, but the Crosley rear axle was retained, located by leading parallel links and a Panhard rod.
Tanner was also an accomplished driver, and did well with the Crosley, but had his greatest success, including an SCCA national championship in HM, after a 750 cc 2-stroke Saab engine was fitted.
The most unusual Crosley powered special was built by James Rattenbury. He located the engine crosswise behind the driver, with a chain driving a sprocket on the rear axle. He also fitted a supercharger, giving intermittent power peaks of up to 60 h.p. at 12 pounds of boost. The car was possibly too complex, since it didn't have an impressive competition record, but Rattenbury enjoyed the challenge of building it."2
Alternate Summary
"The first Crosleys were introduced in 1939 to sell through the company's radio stores, but production was terminated by the war. The first post-war car was a 700cc saloon with a lightweight engine. The Hot Shot, after initial scepticism, was well received, having a rigid chassis and good suspension. The open super-Sports had a 750cc engine, OHC and cast iron cylinder block. The 750cc, dual fuel engine was a success, catching the imagination of many special builders for racing. Unfortunately the out-dated bodies were not good enough for the public and sales fell. In July 1952 the company was sold to the General Tire & Rubber Co."1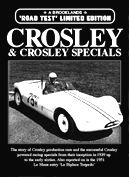 Purchase this book in our Amazon Store
[ Crosley Engine ]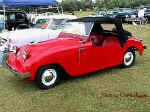 A 1950 Crosley Hotshot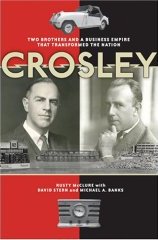 Purchase this book in our Amazon Store
Crosley Specials
(a p artial List)
Alsbury
Bandini
Beach
Bryan
Bunce-Buck
Devin
Eyerly
Giaur
Gounis
Heppenstall
Jabro
Jones-De Camp
Manta Ray
Martin
Miller
MPX
PBX
Seifried
Shannon
Siam
Siata
Sparrow
Tanner
TXP
Voigt