H Modified
Devin - Panhard
Engine: 745-750cc Devin-Norton-Panhard
Builder: Bill Devin
Current Owners:
Alva Rodriques of CA
Jacob Shallit of Calabasas, CA
"In 1954, California entrepreneur Bill Devin had a surplus of Panhard pieces
and decided to use them to build a competitive sports car. He built a
simple box section, tube frame with an 84 inch wheelbase and covered it with
a fiberglass body. It weighed around 950 pounds.

However, the air-cooled, horizontally apposed two cylinder, 745 cc pushrod
Dyna-Panhard engine needed more power. Devin converted it to single overhead
camshaft configuration using toothed, flexible belts to drive the camshafts.
It boosted power from a meager 40 hp to nearly 80. The entire engine was the
size (44 cubic inches) of one cylinder of a Chrysler V8!

Devin even build an engine with double overhead camshafts, but normally supplied single overhead camshaft and the "breathed-on" versions. In kit form it cost $200; ready to run was $2850.
Jimmy Orr won the 1956 H-Mod National
Championshhip with a single overhead camshaft equipped Devin-Panhard."1
Devin-Norton-Panhard Engine
"Using the Panhard crankcase, roller bearing crank assembly, and rods as a base, Devin affixed a pair of Norton 'Manx' motorcycle cylinders topped by an overhead cam layout. To drive these cams, one per head, a notched rubber transmission belt was used."3
For more information on this unique engine see Small Bore... Big Pull!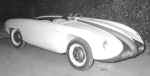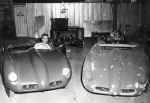 This is a photo of Bill Devin
"sitting in a 'just finished'
Devin Panhard in 1955."2
The second Devin Panhard is presumably on the right.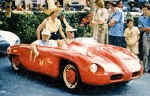 "Bill sold the second Devin Panhard off his assembly line to Jim Orr of Kentfield, California. This is a photo of Jim with his Devin Panhard in the pre-race parade in Nassau, 1955."2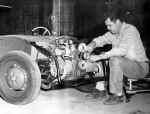 "... just getting a car ready
for the next race takes many man-hours. This is one of
my [Bill Devin's] mechanics, Fletcher Isard, working on a 750cc (blown) engine for the
next race."2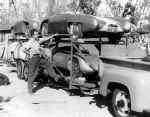 "This is a [1956] photo of Bill checking his load of racers going to Nassau for the competition. Lance Reventlow's "Cooper-Climax" is loaded bottom/front. The white Devin Panhard (bottom/rear) is the one [with which Jimmy Orr] won the SCCA National Championship of 1956."2
Devin - Crosley
Engine: Crosley
Builder: Crosley modified by Bill Devin
Current Owner: Mike Clearly of CA.
Bill Devin says, "When they had the first race for sport cars in Southern California (the first that I know of in Santa Ana,) we went there (this was in 1950). Phil Hill and some of the guys that I knew were running, and that got me hooked on the 'Sport Car thing'..."

"At home, I had an almost new 1949 Crosley Hot Shot and I went to work on it as soon as we returned from Santa Ana. I got Clay Smith to grind me a cam for it and tweaked it up and started racing my Hot Shot at Pebble Beach, Palm Springs, Torrey Pines and wherever we could find a race in those days,"4
Devin-Mitchell-Crosley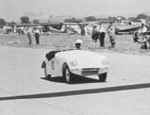 "In August of 1951, Bill took his Hot Shot to Buchannan Field, CA. for his first race.

He raced his Crosley Hot Shot against MGs and Jaguars in the novice class.

This picture is Bill taking his first of many wins with his Hot Shot."4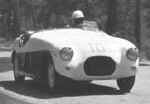 "With the racing bug, Bill is seen on the race course at Pebble Beach in 1952."4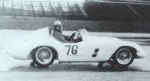 Ollie Schmidt's Devin-Mitchell-Crosley