Background
"The largest producer of fiberglass auto mobile shells today [1958] is Bill Devin, Devin Enterprises, 9800 Rush Street, El Monte, California. Bill's Monza-bodied shells can be seen at almost and sports car race in the U.S., and in nearly every country in the world ... even Saudi Arabia!
Not only is the quality of his work excellent, but it also shows the result of many hours of experimentation with the fiber medium. Goodies like integral door liners, molded receptacles for standard five-inch sealed beam headlights, floorboards laminated to the body shell, a dash panel designed to accept instruments for either left or right hand drive, molded bucket seats, reinforced hood and deck lids, and molds available for producing 27 shell sizes!
Depending upon the state of trim, Bill's units start at $380 ($460 for 96-106 inch wheelbases). Latest innovation in the line is a 'do it yourself' kit consisting of a welded big-tube frame, front and rear axles, sway braces, drive shaft and housing, axle housings, springs, steering cross link and clutch rod, plus a deluxe Devin fiberglass body with doors, molded bucket seats and molded headlight receptacles - all for $995. This kit requires no welding or cutting, and can be assembled with hand tools and electric drill. Designed to take a Chevrolet Corvette mill [engine], this package offers excellent performance for a minimum cash outlay.
In the 'works' are a series of ready-to- race high performance cars to be manufactured in Ireland. They will use a chassis and suspension essentially like that of a Lister, will have a hotted-up Corvette engine and gearbox, and be fitted with a Devin body. In addition, components from this car will be sold individually: independent front suspensions with A-frames, Woodhead- Monroe springs and shock assemblies, tubular frames (Lister type), de Dion rear suspensions for 750cc to 1500cc, and larger copies for cars between 2000cc and unlimited class. Racing steering wheels, triple-spoked wire wheels, and highspeed instrumentation. Presents pricing schedules are very competitive, and should create a still heavier demand for Devin products.
Devin Enterprises have dealers in 15 states, and British Columbia."1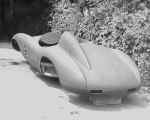 A body plug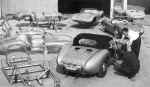 Bill [Devin] (standing) and
Wayne Thoms going over
some Devin-Ds in the rear
of Bill's shop. (1958)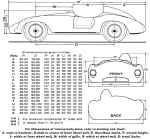 Dimension for various
Devin bodies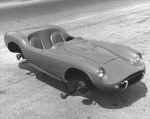 How a Devin SS kit shipped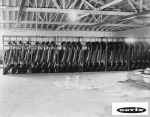 Many bodies in storage
Photos from the book1 will be added after they are scanned.


"photo 1"1


"photo 2"1


"'photo 3."1


"photo 4."1