Specifications
Builder: Jones and De Camp, see below
Chassis: Truss type, from 1.125" seamless tubing, plus smaller diameter tubing for vertical and diagonal bracing
Body: Devin with modifications
Weight: 880 pounds
Wheelbase: 82"
Track: 46" Front, 42" Rear
Engine: 748.36cc modified Crosley
Oversized valves
Winfield camshaft
Single dual-throat Weber carburetor
Transmission: Morris Minor clutch into an MG transmission
Front Suspension: Unequal length A-arms, Lotus coil springs and hydraulic shocks
Rear Suspension: Stock Crosley Hotshot, with coils and tubular shocks
Steering: Morris rack & pinion
Brakes: Front and rear are Stock Crosley Hotshot disc units
Wheels: Modified Crosley centers
Tire Size: 5.20x12 front, 6.00x12 rear
Fuel Capacity: 8 gallons (Panhard aluminum fuel tank)
Current Owner: unknown
---
Background
"Owned by Harry (and Vi) Jones and Lyn De Camp of the Rich and Jones Body Shop in Glendale, California, this car breaks the string on the old adage where the cobbler's family goes without shoes, and the photographer's family goes without family photos!
With the help of chassis designer Jim Troy, the three men designed and built the car in 18 months' time. The truss-type frame is from 1.125 inch seamless tubing, along with smaller diameter pieces for vertical and diagonal bracing. Lotus coil springs and hydraulic shocks were incorporated into the front suspension, which uses unequal-length A-arms. The rear suspension is a stock Crosley Hotshot assembly, with coils and tubular shocks.
Wheels are modified Crosley, with 12 inch (diameter) wide-base rims welded to Crosley centers. This modification provides for 5.20x12 tires at the front and 6.00x12 at the rear.
Having experienced waiting periods of nine months for engine parts for his Moretti coupe, Harry insisted on an American powerplant for the new car. Charles Gardner, of the Mustang Cycle Company, was given the job of building the powerplant. It is a modified Crosley, with oversized valves and Winfield cam, a bore of 748.36cc, and breathes through a dual-throat Weber carburetor.
The body is a superbly finished Devin fiberglass shell, with built-up wheel wells to accommodate the small 12 inch wheels. A carburetor shroud was added to the hood, and hot air escape vents cut into the rear. The fitted shell was then hand-rubbed and painted in the Rich & Jones paint shop -- obviously a labor of love!"1

Click to go to the
H Mod Yahoo group


"Material was added the
wheel cutouts of Devin
body to accommodate
tiny, 12 inch wheels.."1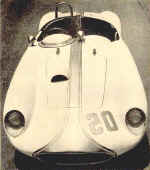 "Fiberglass shell was made
by Devin. Scoop on hood
was added to clear
Weber carburetor."1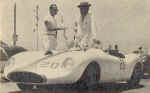 "Lowness of car is accented
by Harry Jones."1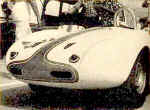 "'Note hot air escape
vents at rear of car."1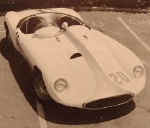 "1958 photo of
Jones De Camp
Crosley Special.
photo courtesy
Road & Track magazine"2