New NA Endurance Series Starts in April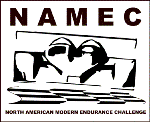 The International Sports Car Manufacturers Association (ISCMA) has announced a new C-Class sportsracer series – the North American Modern Endurance Challenge – sanctioned by the National Auto Sport Association that will begin competition in April 2007 as a specific class as part of NASA's existing Western Endurance Racing Championship series on the West Coast. NAMEC plans to expand into the Central and Eastern regions of the USA in the future.


The North American Modern Endurance Challenge (NAMEC) will be open to C-Class sportscar prototypes meeting FIA-CN and C3 specifications and standards. The NAMEC Series will compete under the same rules and regulations as the successful Van de Vyver (V de V) Modern Endurance Challenge in Europe, and has received approval from the V de V to establish a North American series that will be operated in association with V de V to expand this racing formula outside of Europe. Constructors currently eligible for the NAMEC Series include: Radical, Chiron, ADR, EMA, Ligier, Juno, Norma, CvO, Merlin, Funyo, Fior, Lucchini, and Panhard. Other constructors can be homologated based on meeting FIA and NAMEC specifications.

The NAMEC schedule will feature six races for the championship, including the revived "12 Hours of Thunderhill" race for points that will run concurrently within the "25 Hours of Thunderhill". Four of the six events will be three-hour races with a fifth comprising four hours of competition.

Any competitor wishing to participate to the whole season of the Modern Endurance Challenge, will pay an entry fee of $10,500 USD, for all the races of the calendar (7 races).

Sport Prototype: Dry Minimum Weight without Driver


CN


1,000cc or less weight 480kg – 1,056lb
1,300cc weight 500kg – 1,100lb
1,600cc weight 520kg – 1,144lb
2,000cc weight 540kg – 1,188lb


C3


1,000cc or less weight 505kg – 1,111lb
1,300cc weight 540kg – 1,188lb
1,600cc weight 565kg – 1,243lb
And subject to file study : - C1, C2; - CN over 2000 cc; - C3 over 1600 cc.

The 2007 NAMEC schedule and venues are:
1: April 14, Buttonwillow Raceway, 3 Hours (Day/Night)
2: June 3, Thunderhill Raceway, 3 Hours (Day)
3: July 7, Willow Springs, 3 Hours (Day/Night)
4: October 13, Buttonwillow Raceway, 3 Hours (Day/Night)
5: November 10-11, Infineon Raceway, 4 Hours (Day/Night)
6: December 1-2, Thunderhill Raceway, 12 Hours (Points) / 25 Hours (Non-Points)

To obtain a set of rules and regulations, or more information on the North American Modern Endurance Challenge, visit the Series website at [ www.modernendurance.com ] or contact Andrew Campbell and Edouard Sezionale via e-mail or telephone as provided in the "Contact Us" section of the site.



Labels: NASA