Mallen Alley Track Test Debut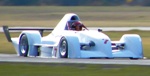 Kevin Allen took the team's newly developed Mallen Alley PP1 car through its paces at Roebling Road in Savannah Georgia and finish the two day test with a huge smile. No major problems were encountered, so the team now is looking forward to getting out again after they resolve a couple of driver compartment issues.


Kevin reported the following:

"Roebling Road in Savannah Georgia is a great club course that features a high average speed and very nice new paving. We planned to do a couple easy sessions Saturday afternoon followed by lots of inspecting and prodding to see if anything important was going askew. As it happened, everything was perfectly fine, the only issue was a lack of stiffness out on the ends of our splitter. We were able to cross brace it with a couple aircraft cables and get through the test with no further problems. A fix is in for it, so it will cause us grief no more.

I didn't do enough laps to tell much about the car except that it gripped like velcro, it seems the aero is working pretty well. Also that my seat and pedal layout were absolutely hideous. One of our last projects was to foam a seat in place which was done Friday evening at about 11 o'clock. It felt OK until, the car started generating it's pretty substantial side forces, it then became pretty much miserable. I could not find a way to confidently left foot brake as the brake and throttle were too close together. This would not have been too bad but it also made me very slow and deliberate with my footwork. As I would find out the next day, this wastes lots of time in a car with this kind of lateral acceleration.

Sunday started out a bit soggier than we had hoped, a cold front blew through overnight and brought rain, cold air and wind, ... lots of wind. By the afternoon it was probably 20+ mph steady with higher gusts, the poor little R1 engine felt broken as soon as I'd make the turn onto the front straight as the wind was blowing straight up it. The engine would pull about 10400rpm during my easy laps Sat, today it was working hard to get 9500. I was actually worried that it was sick but it ran fine the rest of the way around, guess that's what happens when you have less than 100 ft/lbs of torque.

The weather issue aside, the car was brilliant, I have never driven anything that would generate the side loads that this car does, even with our limited setup and fiddling. Our goal for the weekend was to see if the wheels and other substantial bits would stay on so we didn't spend a lot of time with tuning. As it happens it was pretty darn good right out of the box so it saved us the trouble of having to scramble for a setup we could test with.

We managed to run a 1:11 and change with the car which was gratifying, we're not up to track record times yet, but considering the weather and our relatively hard compound tires, we were most happy. We didn't have any real problems, all the systems worked well and worked well together, the car was glued to the track and we had a ball. We're looking forward to getting out again after we address our major issues, which are the seat insert and pedal layout."

For more photos and information, check out the
Mallen Alley chassis page, here on the Sports Racer Network,

or the [ Mallen Alley Racing website ].



Labels: New Cars