Progress Shown on Clayton Body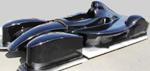 Stan Clayton displayed and described the most recent progress on his and Rennie's project to make thier own version of bodywork for the first generation Stohr chassis.


Stan Clayton reported, "here is what our buck looked like after being sanded to 220, then primered and painted (gloss black), followed by buffing out. The surface was like a mirror. BTW, a paint-n-body shop did the final primering, painting and buffing out in two days for $260, plus $27 in fees, for a total of $287.

The buck was finished though primer and 220-grit sanding. We delivered it on a Tuesday morning and picked it up 48 hours later. The paint was perfect, with a high gloss mirror finish. This approach will save you a TON of time in finishing work at a very reasonable cost, but is not compatible with all pattern making materials. Two-part foam with FRP or 2-part body filler outer coat works great, but you must stay away from any hydrophilic materials such as spackling."

See the Clayton Bodywork page.



Labels: New Cars