Norma M20F Arrives in USA
Steve Trindade, President of Automotive Technology Group, announced that the first Norma M20F LMP race car arrived today in the US. Pictures of the car before it was shipped were shared and are shown here.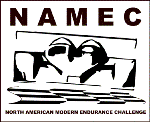 ATG will be running this first car in the new North American Modern Endurance Challenge (NAMEC) Series. With the arrival of the car, we would like to extend an invitation to all of you to visit our facility to see the car and discuss driving and /or sales opportunities.


Though the Norma M20F is new to the US, it has been competing very successfully in Europe since 2004, winning championships in France, Italy and the UK. So far in 2007, the M20F has won 3 of the 4 races contested in England and France. We expect to carry on the winning tradition here in the U.S. Information on the Norma M20F will be added to our website as it becomes available.



Specifications:





Chassis


Tubular 4130 steel space frame with bonded and riveted aluminum
shear panels. FIA tested and certified carbon fiber crash box.



Body


Polyester glass construction with gel coat color surface finish.
Aerodynamics developed using Fluent CFD simulation.



Engine


Honda Type R 2.0 liter, 4 cylinder, 255HP



Gearbox


Sadev SL75, Sequential 6 speed w/ reverse, interchangeable ratios,
disc type limited slip differential, fully stressed gearbox housing



Suspension


Double A-arm suspension, pushrods with inboard double adjustable
dampers. Front and rear anti-roll bars.



Brakes


AP racing 4 piston calipers, with 267MM (10.5") diameter rotors



Wheels


ATS 13" wheels x 10.5" wide



Weight


1190 lbs (540 kg)

[ More Norma M20F departure photos ]

[ Automotive Technology Group ]

[ North American Modern Endurance Challenge (NAMEC) Series ]

[ French web site for additional information on the Norma M20F ]



Labels: New Cars