Introduction
Dick Colburn reports, "Dale Tholen designed and built the modern Astech in 1972, powered by a Fiat 750 engine with, I believe, a Renault 4-speed transmission. Jim Baillie drove the car, with good success in 1973 and 1974, and at some point was replaced by Richard Shirey. Dick also did very well driving the car. Dale eventually built an 8-port head for the pushrod Fiat engine, which later became a Fiat 850 when legal.
My Astech was commissioned in early 1975, and first ran at the '75 Runoffs, where it finished 8th (I think). Instead of Fiat power, I had a Suzuki GT750 'Water Buffalo' engine. The Astech DSR of that era had two seats, doors that opened, and a few other quaint responses to the rules of the day.
In 1981, I ran my DSR with a Nissan/Hewland package, subsequently switching to AMW power. Kerry Tholen Rauch has Dale's original car, James Kuhns has one, Ted and Nancy James may have ended up with one, and there may have been one more. I have lost track, and it may be that one or two have had multiple owners. Dale built great cars, with good attention to detail. He had some interesting ideas, and taught me how to build race cars with sheet metal screws. Scary, but they worked. Lots of 10-32 screws, also."
S2000 / CSR
Dick adds, "In '77 or '78, Dale Tholen, Al Thomas and I formed a business to make Super Vee engines with Dale's and Al's own fuel injection system. Jim Baillie was engine builder. We enjoyed modest results, but found supporting pro racers to be a challenge. We then decided to build a Sports 2000. The car was bigger than the DSR, though similar to it. It used different uprights, with castings at rear and fabricated steel uprights in front, all compliant with S2000 rules. The frame turned out to be a bit flexible, but Dale objected to my ideas for stiffening it.
Three were built, with one going to a Jim Lawrence in Kansas. I don't recall where the second went, but I took one and ran it in CSR in '79-'80, with a VW Rabbit engine. Rick Spillman also drove the CSR, and went to the '80 Runoffs. Problems precluded a strong finish. That car now collects dust in the shop, sans engine. It is a restoration project."1

Dick Colburn has full-size blue prints or both the Astech DSR and S2000/CSR.
Tholen's DSR
The car pictured on the right was designed by Dale Tholen and engineer Al Thomas, and was constructed in 1977 by Dale Tholen.
The car was originally fitted with a Fiat 850cc engine, which was the maximum engine size allowed for the day. Later, the car was fitted with a Nissan 1300cc B210 engine, then upgraded with a Motec fuel injection system. In 1997, the car was fitted with a Worth Kawasaki ZX-10 engine, which was its configuration as of 2000.
The suspension utilizes components available from Tholen Design Consulting; front and rear hub carriers/uprights. The car has a "locked" rear-end, utilizing a TDC rear bearing and sprocket carrier.
Body molds for this car still exist. With the flat sizes and design, this body can be "stretched" or "compressed" fairly easily to fit other applications.
The information above was provided by Kerry Tholen Rauch, the car's current owner and daughter of Dale Tholen.
Kerry was still racing the car as of 06/13/99.
06/13/99 Willow Springs Nat Race Results
04/26/98 Buttonwillow Nat Race Results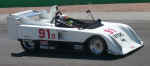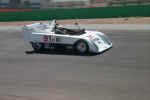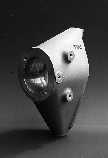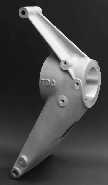 Ted & Nancy James' DSR/CSR
Ted James reports, that this is "our Astech that I built using Dale's plans. It was originally a DSR using a TZ750. After I got tired of building TZ 750's and only finishing 1 race in 10 attempts, I changed engines. The one race it finished it lapped the field. That's why [Paul] Decker bought it. He was one of the field!
In the CSR configuration [pictured at the right], it used a 1600cc water cooled FI Super V engine and MK9 gear box. It made two races and a steering arm broke in [turn] 8A at Sears [Point Raceway in California], breaking Nancy's back on April 13 of 1979. She drove her next race Thanksgiving the same year in A FSV and won overall. Hard to keep a good lady down.
I sold the car to Paul Decker who rebuilt it and ran some races then sold it to Jerry Smith. I think Bob Fox may still have the frame.
The car was painted in Dupont Emeron and was featured in several refinisher magazines."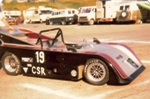 Sears Point, CA
Photo by Jeff Read
Dick Colburn's DSR/CSR
Dick Colburn says "I suppose we need to put together a brief history of all the Astechs, Tholen-built and plan-built, along with ownership changes. With mine, it's easy, and Kerry's.
Others have less boring histories. I also still have the S2000/CSR, with the VW motor Jim Baillie built for me, though the engine and attachments are out, and the bodywork needs restoration."