Background
The Suzuki GT750 was the first production 2-stroke engine that was water cooled, and is known as the "Water Buffalo" in the US and the "Kettle" in Europe.
Stock Specifications
Engine Type: 3 cylinder, 2-stroke
Displacement: 738cc
Bore: 70mm
Stroke: 64mm
Horsepower: 52-70 HP @ 6,500 RPM which varied over the years 1971 to 1977
Torque: 8.5 Kg/m @ 5,500 RPM
GT versus TR
The Suzuki factory performed modifications that transformed the GT750 street engine into the TR750 Grand Prix racing motorcycle engine. Aside from factory porting changes, many other modifications included no fins on the barrel and head, no SRIS oil injection provisions, a 6-speed transmission (Ocelot had a few of these), and they ran a dry, air cooled clutch to save weight (DSRs ran a wet clutch).
The factory 739cc TR750 GP bike made 107HP (rear wheel) @ 8,000 RPM - adding 2% for chain losses = 109 HP at the crank, or 2.44 HP/cubic inch.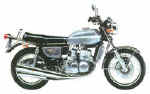 a street GT750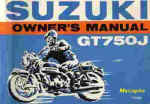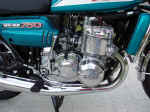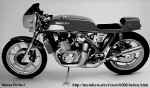 a TR750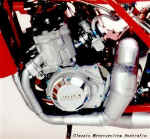 Note the dull, cast barrel
and head on this TR750,
as opposed to the polished
and finned ones on the
street bike motors.
Ocelot Suzuki
Gene Davis and Larrie Schneider ran Ocelot Racing, Inc, of Madison, Wisconsin. In addition to producing the Ocelot chassis, Ocelot engineering modified over 130 Suzuki GT-750 engines over a time frame covering from the early 70s to the mid 80's.
These Ocelot/Suzuki engines ruled DSR for many years, until the more powerful Kohler (140HP) came on the scene. Several DSR National Championships were won with Ocelot Suzuki engines.
Note that the Ocelot made even more power than the factory TR750 due to larger carburetors and a full 750cc displacement compared to the TR's carburetor size, limited by Grand Prix rules, and 739cc displacement. Note that with the horsepower listed below, Ocelot engines put out 2.5 HP/cubic inch or 150 HP/liter in the mid 70s!
Offerings
Ocelot made two basic race engine types:
A 750cc "regional" engine good for 110-115 HP. A 1978 pricing sheet from Ocelot shows the "Introductory" 750cc engine at $2,463

Their killer 850cc 130HP "national" engine. The same 1978 pricing sheet from Ocelot shows the "National" 850cc engine at $3,545.
Modifications:
Ocelot engines included these changes:
a modified TR-750 porting (similar to the Suzuki GP bike racing version)
a "squish" head offering a small combustion chamber.
un-tilted the outboard spark plugs.
initially used the German Krober ignition type, then later change to the Lucas RITA LR105 (Racing Ignition Transistor Amplifier)
Ocelot now
Larrie Schneider has retired to Florida. Gene Davis is still in the Madison area, having sold the Ocelot business to Dan Olberg of Magnum Racing and Machining in Bloomington, MN.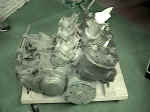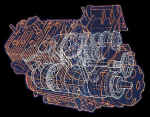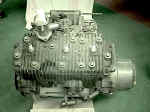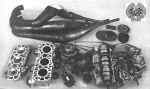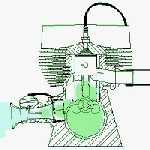 2-stroke animated demo (254KB .gif download)
Notes from John McCann
"My ex-Urso Ocelott/Suzuki, now with 1mm oversize pistons is at 760cc.
That 71mm bore motor is really gulping... what with 40mm Lectrons
Anyone know where I can get some 5mm oversize 75mm/850cc pistons?"
Email: John McCann
Some images provided by John McCann.
Notes from Bill Meyer
"I ran these engines a long time ago (when they were still competitive in DSR). [Recommended ignition changes are to:]
Replace the Suzuki points rotor with a modified reluctor (rotor) from a 6 cylinder Ford pointless distributor.
Machine the proper inside taper, grind off 3 alternate ribs.
Make a bracket for a Moroso pickup.
Install your choice of electronic ignition and 3 coils.
This setup fires each cylinder 3 times per revolution with no detrimental effects. Any electronic tachometer can be used. The tach should be set for a 6 cylinder 4 stroke to get the indicated RPM's correct (from memory, don't hold me to this without re-calculating).
Standard water temperature gage can be installed in the water outlet neck."