2004 Most Significant Contributor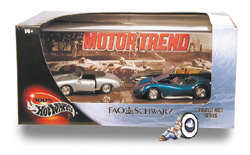 Tom Clayton
, web producer of the Sports Racer Network, named Curt Anderson as the
2004 Most Significant Contributor
to the web site's content.
Of the 150+ cars with chassis pages on the site, Curt provided material which was used for at least 21 car pages last year. He provided information on cars that he owned (while not trying to sell them), and ones with which he was familiar. He also scanned publications to provide photos and transcribed articles whose text was quoted. Curt also contacted other cars owners and encouraged them to document their sports racers.
As a gift of appreciation, Curt was presented with a 3-Car Hot Wheels® Collector Set of 1:43 die-cast vintage racers. FAO Schwarz offered this exclusive Motor Trend Magazine Vintage Racing Series. The set includes: the Scarab, Ferrari 365 GTS/4 'Daytona', and Porsche 356.
Tom Clayton offered, "Thanks to Curt, the other content contributors, and those that have helped support the site through donation and recent Amazon purchases."
Tom further expressed, "thanks to Jack Poller for providing space on his server which hosts the Sports Racer Network. Jack, like me, had a very strong interest in DSR several years back, but has had changes of priorities in his life which has postponed fulfilment of his dream of racing one. The SNR would not exist in it presnt state if it were not for the generous hosting of Racer.Net."
The Sports Racer Network has grown considerably over the last 4 years. The site started with a focus on DSR, then expanded to cover CSR, H Modified (as well as G, F, and others), and a bit of S2000. In fact, the scope has opened up to include amateur sports racers in general, while leaving coverage of the large displacement vintage cars other sites. As the site has evolved, it has assisted several new cars (which did not, and some still do not, have web sites of their own) to be introduced to the market and become popular.
Labels: General