Cars are ready for sale
October 28, 2004: Peter Derviller of traXstar reports

The traXstar tX-1 completes a successful debut SCCA year

"In the fall of 2003, the first car was purchased by Roger Roatch of Gig Harbor, Washington, who is now the NW region dealer for traXstar. After the 2003-2004 winter rebuild, including an innovative installation of a Yamaha YZF R1 EFI engine, our new tX-1 successfully debuted at Bremerton, WA. (read the full story on the TraXstar web site.)

Dyno work with George Dean brought the stock 2003 Yamaha YZF R1 engine's rear wheel thrust up to its season's best of 148 HP. Top speed recorded at Portland was 152 MPH and lap times throughout the year were competitive with Regional level DSRs. The car earned its first Pole position at the mid-season Bremerton Regional race and won its first race at the Labor Day event at Mission Raceway, British Columbia.

The prototype tX-1's test program continued with experiments with different suspension setups, EFI mapping, and data acquisition. Test drivers, Roger Roatch and Dennis Bainbridge, reported handling and stability improved after minor suspension alignment adjustments and the car showed it had much more potential. We sincerely thank AIM, K&N and OMP for their support through the car's first competitive season.

Customer interest is growing and with a season's testing now behind us, we feel confident to build customer cars. Current new developments include:

Our appreciation also goes to those organizations for their valuable contributions to the traXstar project."

For details see the Specifications page.

Contact Peter Derviller at traXstar for more information.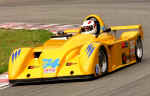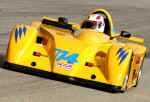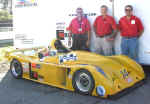 Left to right
Dennis, Peter, & Roger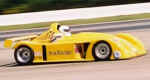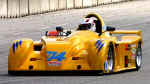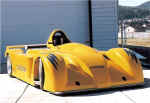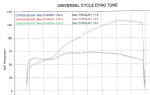 An early dyno run
tX-1 debut photos
on Page 2
Chassis & prototype
photos on Page 3
Article on bodywork
development
Part 1 1.3 MB .pdf file
Part 2 1.2 MB .pdf file