Sports Racer Videos
2006

Dorian Foyil, Stohr WF1, 2006 SCCA National Championship Runoffs at Heartland Park Topeka, Kansas, on October 15, 2006. He started in 8th place and finished in 3rd place.

sAlex Gonzalez of ActiveServe Racing in his West/Stohr IMSA Lites Sports Racer at the 2006 Petit Le Mans of Road Atlanta. Posted on October 4, 2006.

Clark Lincoln at Mid-Ohio. Jon Staudacher is in front in the white car at the beginning.Posted on September 29, 2006.

Kurt Eikenberg, Dogpatch Racing, Prince Pro1
Fall Weatherly Hillclimb, September 16, 2006
55.280 seconds =Fastest Time of the Day!
DSR Record breaking run!

Wes Shelotn, driving his Stohr 04d DSR, at the SCCA Oak Tree National race at Virginia Internaltional Raceway on August 13, 2006.
Wes started the race in fifth position in DSR
[ Qualifying results ], and finished 4th in DSR
[ Race results ] (the fastest of the first generation Stohrs). Many thanks to him for sharing this great in car footage.

Wes Shelton, driving his Stohr 04d DSR, at Roebling Road. Posted on July 31, 2006.

Alex Gonzalez in his West DSR at IMSA Lites Race at Lime Rock Park. Posted on July 7, 2006.
Walkaround video of Alex's car, him getting in the car, then driving at Sebring in June 2006 can be seen on YouTube here.
---
2005

Regional Race at Sears Point (Infineon) Raceway, CA - Eric O'Brien in a 1999 Amac with stock 2001 Yamaha R1 engine, September 3, 2005.
4.8MB mwv file
---

Opening practice, Grand Prix of Willows, Thunderhill Raceway, CA - Eric O'Brien in a 1999 Amac with stock 2001 Yamaha R1 engine. T&S reported the lap as 1:49.07. October 21, 2005. 4MB mwv file
---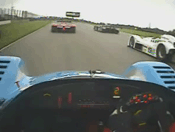 Start of the 2005 CSR Runoffs Race at Mid-Ohio, Ohio in a 2006 Radical SR3. September, 2005.
4.6MB wmv file1