H Modified
Check out the excellent
[ Stanguellini page ]
on the Cliff Reuter's
[ Etceterini.com ].
Introduction
"The Stanguellini featured a large diameter tube frame in contrast to the small diameter multi-tube frames of the Bandini, Giaur and Nardi. Based on a Fiat block, the twin-cam engine made about 60 hp.
Florida Etceterini enthusiast Howard Banaszak - who is restoring the ex Briggs Cunningham Stang' 750 - has passed along a few technical details about the car:
Sandy MacArthur remembers, 'My Stanguellini was imported by Briggs Cunningham for the Watkins Glen race in 1953. I was there with my Bandini, but the Stang' ran off and hid from everyone.' The impressive output (60 hp) made outboard motor magnate Karl Kiekhaefer so curious that he bought it and later blew the engine on a dyno while trying to learn its secrets. MacArthur continues, 'I later bought the Stang'- Mercury and drove it four years until 1960. I'm sure that it was faster (with the Mercury) and as dependable too.'"1


Click to go to the
H Mod Yahoo group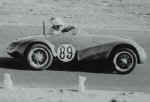 Stanguellini leading a TXP1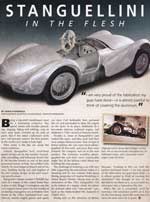 Sports & Exotic Car magazine article, April 2007, page 26.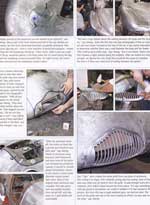 page 27