Rattler Chassis
H Modified, D Sports Racer
Vehicle Description
"This is one of two such cars built in Corpus Christi, Texas, in the mid-1960s by maverick inventor Mark Bratton. This car is the first Rattler built [in 1966], and it was first run at Shreveport, LA in 1966. It ran in the SCCA D Sports Racing class, which was for car with engines of 850cc or less.
Engines
The first engine used was a 3-cylinder 2-cycle McColloch outboard engine with a Harley Davidson transmission, but it was not reliable. The next engine used was a Quincey outboard racing engine (based on a Mercury outboard). This also did not meet Bratton's expectations, so he built his own 4-cylinder engine from scratch. This was very powerful (and loud) but not overly reliable. While it was running it was the quickest DSR in the SCCA Southwest Division.
The next owner was Peter Lott, who installed an air-cooled Honda 750cc motorcycle engine (with integral gearbox) circa 1969/1970. The gearbox was connected to a drive gear by a heavy duty chain. At this time a scoop was added to the top of the rear body for cooling. This setup worked well.
Chassis
The frame is a small-diameter square tube chassis with fabricated fully independent suspension. Brakes are 4-wheel discs with drilled rotors. Bratton had 14" aluminum "pie plate" wheels made from scratch. Bratton also built his own rack and pinion steering system.
Body
The body was fiberglass and was originally painted in royal blue metal flake with white trim. It was a beautiful car. Bratton built a second car and sold the Mk1. He also sold 4 bodies to other special builders, including Richard Finch (author of books on welding and Corvairs). The body looked a lot like the Corvair Astro 1 show car. The Mk1 was modified over the years. When Bratton was racing the car, he discovered the original nose had some lift, so he added a nose spoiler. Later, the nose was heavily modified with a drooping front and an air dam for more downforce. An adjustable rear wing was also added. The original roll bar was a full width design and was later changed to a driver-side bar (on it today).
Post Race Life
The car was raced until 1990 when it was in an accident. The steering column had broken loose from the rack, causing loss of control. Although not badly damaged, it was then stored until we purchased the car earlier this year [2004]. Included in the package are Bratton's original nose and tail molds, so the more attractive original nose can be easily duplicated. The tail is OK, and has the scoop which was added when the air-cooled Honda was installed. Also included are four spare wheels (the car now wears two-piece "CE" style aluminum wheels that look just like the originals). Also included is a large box of spares, including a number of sprockets to change the final drive ratio, shocks, springs and mirrors. Also included is an extensive packet of documentation, including letters from Bratton (recently deceased), an SCCA log book, a Louisiana title for the trailer, set-up notes and photos of the car at each stage of its career. It is a lovely car and would be a cheap, fast and fun car for vintage racing. This car is a piece of American road racing history and should be eligible for almost any vintage racing event.
Vehicle Condition
The car has been partially repaired after the accident. The frame and suspension appear undamaged, but the steering gear needs to be rebuilt or replaced with a new unit. The steering column should be modified for a stronger connection to the rack (I have pinned it so the steering works, but this is not a complete fix). One of the steering arms needs to be straightened. The brakes and all hydraulics will need to be rebuilt. The current engine is a water-cooled Honda 900cc or 1,000cc twin cam motorcycle engine (in unknown condition and degree of modification), which may be too new for your vintage racing club. However, I found used Honda 750cc engines for sale on the internet starting at $100-$200, and big-bore kits can bring the Honda 750cc out to around 830cc. Although the Rattler looks pretty good, like all race cars that have been stored it should be stripped to bare frame and rebuilt. The tires are ancient Hoosier slicks. You are buying a car that needs work, but the basics are all there and the cost of what needs to be done is minimal by race car standards. If you can do your own work and understand motorcycles, this should be an easy project and will be a quick and beautiful vintage racing car! It is sold in as-is condition with no warranty of any kind. The car is located in Weatherford, Texas and must be picked up in three weeks from close of auction."1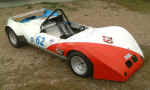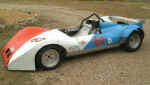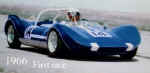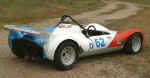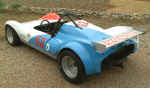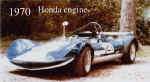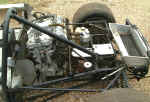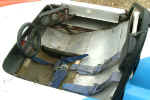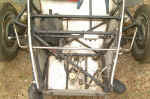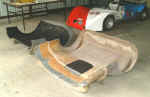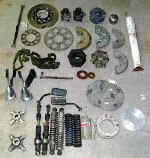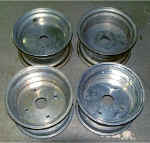 "I think I may know this car. If it's the one I'm thinking of, it was designed and built by a fellow named Floyd Lambert out of Corpus Christi, TX and campaigned in the Southwest Division. It was one (maybe the last) of several Rattlers that Floyd built. A great guy and an amazing and imagnative designer, Floyd was the Guru of G and H modified in this area.
The car picured, apparently has a Honda in it, but originally was powered by an outboard motor conversion of Floyd's own design. He also was responsible for a home-built double overhead cam head for a Sunbeam Imp engine, and a wild creation powered by two coupled snowmobile engines, tied to a Hewland. As far as I know, Floyd is still kicking around in Corpus."
Michael Alexander on the Sport Racer forum on October 29, 2004.
-----------------------
"Rattler #2 was the Honda S800 powered car that Joe McClughan had and that I converted to Suzuki in the late 70's. Sitting in a garage somewhere in Corpus last I heard.

Floyd called his cars "Lambert Specials". He did do the Imp conversion and the less successful twin Rotax set up. Last time I saw Floyd (some years ago) he still had his last car (Nissan powered) sitting in the garage, right next to his V12 Lincoln limo!"
Jack Marr on the Sport Racer forum on November 1, 2004.