Clark Lincoln's car
This is a converted Ralt RT-5 Formula Super Vee chassis which uses the original aluminum monocoque center section.
Brian Little ran the car for many years in DSR, powered by a Honda CBR900 engine. The car now runs with a Honda 929 engine.
Clark Lincoln purchased the car in the fall of 2003 from Brian Little and performed bodywork changes over the winter getting ready for the 2004 race season.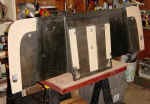 Bottom of new front diffuser.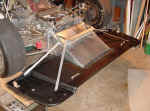 Top of front diffuser showing crush box.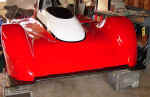 Nose on splitter showing how its leading edge also forms a splitter.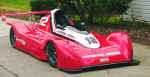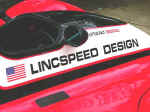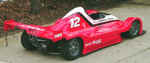 photos above by Clark Lincoln
The wheelbase is 98".
Clark raced the car for the first time at Waterford Hills on May 2, 2004, and recorded a class victory.
At the end of July, 2004, Clark reports, "I have won 6 out of 7 races at Waterford (against a field of 6 other DSRs) and could have won the only National I ran at Grattan, but was back pedaling to cool it down and Phil Alsbach got past me - I'll never forgive myself for that! So, that was a 2nd in a National, but there was only the two of us."