General Description
A complete DSR or CSR for under $30K (see Prices below), built from a donor mid-90's vintage Van Dieman Formula Continental frame and suspension. Pat Prince converts the chassis with a new rear engine section and revises the suspension geometry. Bodywork is now available for the car as well.
These cars have been built and are available for sale through the collaborative effort of Clark Lincoln,
Mike Devins, and Pat Prince.
Read about the LSR Prince development on Page 2.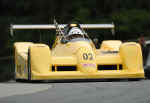 Mike Devins wins at
Waterford HIlls on
August 29, 2004.
photo by John Gacioch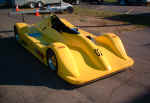 "The cost of the conversion is really defined by the amount of the work that you want to do yourself.

I sell the body work for $5,200.00 in sandable grey gel coat. White and colored gel is done at a premium depending on the color.

Pat Prince does the chassis work and will
1) Do the complete conversion including mounting the body and exhaust ready for you to mount your motor and final drive for about $10,000
2) Do just the engine bay and suspension conversion for $4,500 or
3) Any where in between based on the amount of work that you would like to do yourself.

I also sell a carbon fiber front splitter for $500 that mounts directly to Pat's nose box and I have just finished a set of floors and rear diffusers that will be making a second appearance on Mike Sirriani's car at the Run-Off's this month. The price on the diffusers is TBD as of now.

The big variable is the donor chassis and what kind of condition it is in and how many spares....

Assuming you get a donor for $8,000 (I paid $6,500), pay Prince $10,000, buy the body and splitter at $6,000, you end up with $24,000 into the roller. With a motor and a final drive and all the other small pieces you can keep it under $30,000.

Obviously the sky's the limit on a motor and if you don't get a decent set of spares it can go a lot higher but if you are careful and are willing to do some of the work yourself you can also do it for less. believe that if you use $30,000 as a budget you can be pleasantly surprised and have enough left to go racing.

As of today Pat is tooled up for GSXR, R1 or Hayabusa engines, the first LSR C-Sport is in process.

If Hayabusa powered CSR's become successful, this package may be very effective. It will be able to make the minimum weight and may even have to carry ballast, and IMHO, with some development should be front runner.
My car started out as a RF92. No aluminum brake parts, copper core oversized oil cooler and has not been put on a diet. I weigh about 860 pounds without driver.

Contact me if you have any questions"

Mike Devins


Prices mentioned are as
of September 9, 2004.
Call the appropriate
contacts listed below
for current prices
and availability.
Specifications:
Weight = 860 lbs
w/o driver
Overall width = 68''
Front track = ~58''
(same as FC)
Wheel base = 96.75''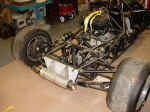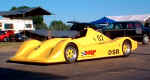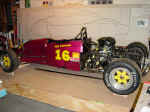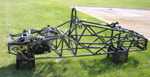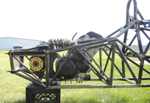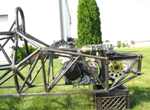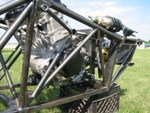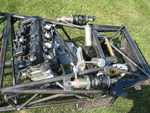 Next
During the winter of 2003-2004, the LSR group developed a nose modification to improve air management for cooling radiators and brakes.
A rear diffuser has been completed and tested as well.
They are looking into tunnel development as well for the future.