Elva Chassis
C Sports Race
Introduction
Elva (a name derived from the French "Elle va" = "She goes") was a successful car constructor in the late 1950s and early 1960s, and was certainly a force Lotus drivers had to reckon with as the well built and efficient sports racers proved more than a threat to Colin Chapman's production.
Mk7
Elva produced 69 Mk7s between 1963 and 1965. The car shown on the right is the 13th. It was built in 1963 and delivered to Swiss racer Sidney Charpilloz. The photos and information below are from an ad seen on Race-Cars.com on July 26, 2004.
Engine
This car has had various engines; originally fitted with a 1216cc Coventry Climax, later a Lotus- Ford 1600cc, Alfa Romeo 1600cc, Ford Cosworth 1100cc.
Type: Lotus Twin Cam engine
Displacement: 1598 cc
Heads: Cylinder head rebuilt one race ago
Crankshaft: Steel crankshaft
Connecting Rods: steel con rods
Pistons: Forged pistons
Oil/Water System
Dry sumped engine
Radiator: 2 water radiators
Water Rad Location: front
Oil Cooler: Oil cooler
Electrical System
Ignition: Lucas electronic ignition, 12V system, master switch, alternator
Transmission
Manfacturer: Hewland
Type: Mk9 5-speed gearbox
Rear End
Manufacturer: Hewland
Type: in unit with gearbox
Differential: Limited slip differential
Body
Construction: Fiberglass bodywork
Front lights, stop lights, and windscreen were fitted to the car
Chassis
Type: Spaceframe chassis with riveted aluminum panels
Front Suspension: double wishbones, coil over shocks, cast uprights, tubular anti-roll bar
Rear Suspension: lower wishbones, top links, upper radius rods, coil over shocks, fabricated uprights, tubular anti-roll ba
Shocks: new adjustable Leda dampers front and rear
Brakes: non ventilated front and rear discs, aluminum calipers
Steering: proprietary rack
Wheels: Minilite magnesium wheels with 450 M 13 tires at the front a
Tires: treaded tires, 204 compound
--> Page 1 <--
Page 2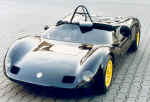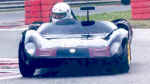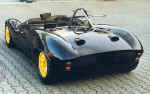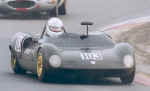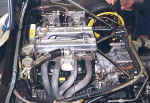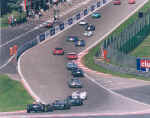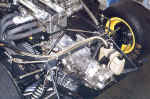 1968 ARRC
Joe Moore of Costa Mesa, California, raced in CSR at the 1968 American Road Race of Champions (the SCCA's national championship at the time) in a Elva Mk 6. Joe completed 6 laps and it was noted that he did not finish.
The November 19-24 race was held at Riverside Raceway, CA. The 18 lap race covered 46.8 miles in 30 minutes, 35.5 seconds for an average speed of 92.2 MPH.
MK II