Begra Chassis
Introduction
"In 1958, Gene Beach (who was running a Crosley powered H-Mod Special at the time) and Henry Grady (strictly interested in being a race driver at the time) decided to build a rear engined H-Mod car. It would be called the BE (for Beach) and GRA (for Grady). The bought (rather financed) a brand new Fiat 600 sedan, stripped it down completely, turned it upside down, built a jig to locate the chassis mounting and suspension points and fashioned a chassis around the jig. They hammered pieces of aluminum over an oak tree stump and sand bags and welded it into a body to cover the tubular space frame. The Fiat engine was bored out to 733 cc and was heavily breathed upon including a camshaft from the then unknown Harvey Crane.
The enterprising pair sold the body and bits they didnít use back to the same Fiat dealer but didnít tell him that the bits were from the same car that the dealer himself had financed! Grade remembers that the pair raced the car for one and a half years in the South with very successful results, including beating class king Ollie Schmidtís rapid OSCA. The pair believes the Begra was the first rear engined H-Mod car.
Henry Grady now runs a vintage race here and there in a "killer" 1275 cc MG Midget, and Gene Beach, an architect who went on to build Beach race cars, is getting the "bug" again as heís restoring a Beach Formula Ford for himself."1
---
Begra Sports racers were built by Gene Beach and Henry Grady from 1959 to 1962.
Gene Beach later built the Beach Mk 4 sports racers, as well as formula cars.
Henry Grady later also built two other Grady H-mod cars.
Follow this link to a fabulous
Begra Sports Racer site
hosted by Nick England.

Click to go to the
H Mod Yahoo group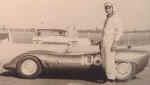 "September 1960
- Gene Beach poses
with the Begra I.
photo courtesy
Henry Grady"1