Intro
The Hillman Imp road car was produced by the Rootes Group from 1963 to 1976 in a specially designed plant in Linwood, Scotland. The Rootes Group produced 440,000 of these extraordinary cars.
It used a Coventry-Climax derived 875cc engine and a "remarkable" gear shift. The rear mounted engine was all aluminum alloy (176 lbs. complete with transmission), and utillized an overhead camshaft.
875cc Version
The block and head are both of alloy (75% Al; 23% Si; 1% Cu; 1% Mn ?). Overhead valves are driven by a three bearing overhead cam and an advanced combustion chamber shape,
Engine power output was
55 bhp @ 6100 RPM
55.6 lbs.ft @ 4300 RPM in sporty versions
75-80 bhp could easily be extracted for rallying
110 bhp @ 8500 rpm
could produce, at least, for racing if carburetion was free.
Capacity: 875cc (53.14 cu.in.)
Number of cylinders: 4
Bore: 68mm (2.675")
Stroke: 60.375mm (2.375")
Stroke-to-bore ratio: 0.887 to 1
Connecting-rod length: 3.47"
Main journals: 1.876", 1.317
Big-end journals: 1.625:, 1.00"
Projected piston area:
145.6 sq cm (22.5 sq. in.)
Inlet valve head diameter: 1.064"
Exhaust valve diameter: 1.010"
Valve lift: 0.247"
Valve timing:
Inlet open: 6º BTDC
Inlet closed: 46º ABDC
Exhaust open: 46º BBDC
Exhaust closed: 6º ATDC
There are differences to the Mark 1 and the Mark 2 engine blocks. On Mk1 (or curly edge) blocks there is room for 'movement' due to the top deck being a little flimsy. This can lead to gasket failure. On later blocks (and heads), the castings were thicker and generally the quality was better. For tuning, use the Mk2 engine. The largest size valve that can safely be fitted into the Mk1 head are those fitted standard to the Mk2.
Retooling for the straight edge block must have been very expensive, and Rootes would not have spend money like that without reason. The Mk1 block assembly is too thin in all the wrong places to convert to 1000cc.
Pistons come in 2 types: small pin and large pin. Low or higher cost depends on what quality you are looking for.
Re-boring of an 875cc engine up to 30 thou oversize is considered to be the maximum. But many people do go to 40 thou. 60 thou pistons can be obtained.
Talbot only did 15 and 30 thou pistons.
JP Pistons are manufactured in Australia.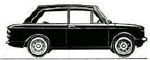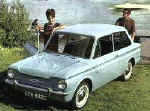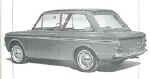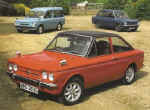 ---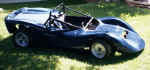 Imp DSR Chassis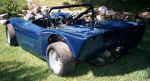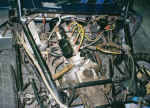 Imp engine in the rear
of the Imp DSR Chassis
---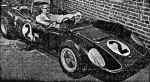 Russ Norburn's
Beach-Imp sports racer
---
The sound
(19sec., 427kB wav file)
of a Sunbeam Imp Sport
(JYX 484K) engine (1991)
send in by Dave Hutchy
3 Feb 1998
---
Modifications
For racing purposes the engine was much easier to modify than the Mini's as most of the major components could be used even in a full race engine.
The block was exchanged for a wet liner 998cc block, the crankshaft and conrods were balanced and (optionally) 'Tuftrided'. The oil pump replaced by a competition department one with bronze drive gears. Upgrade oil pumps which were converted to use Hillman Hunter 1725 pump rotors were also sometimes used. To improve oil return from the upper reaches the cylinder block and head were modified to accept a sport type external oil drain and the inlet valve oil seal discarded (to accommodate high lift cams).
The heads were also machined to accept 'Wills Rings' hollow internally pressised seals which replaced the cylinder head gasket.
The works specification cylinder head used larger inlet (1.4") and exhaust valves combined with a 0.360" lift camshaft using a converted sport cam carrier. This type of engine could produce about 115 bhp.
Late in the 1970's the late Andy Chessman developed heads which used smaller inlet valves (1.375") and a higher lift camshaft (0.420") which gave a better spread of torque and more power 123 bhp. These camshafts required very special cam carriers with bronze liners.
Another optional modification was the use of a a girdle plate between the sump and cylinder block to support the centre main bearing and reduce flexing. The stiffening plates used by some racing Imps between the bock and sump are much like the alloy crankcase ladders that are now popular to use for more stiffness. If it can be avoided then avoid putting high tensile (pull out) loads unto weak aluminum blocks.