Unicorn Chassis
H Modified
Background
This car is an interesting combination of things. It has a Crosley engine with an Isky cam, good for 65 bhp. The transmission started as a Fiat Topolino, then was later changed to a 4 speed from a 1968 Pinto. The rear end is from a 1938 Simca, while the brakes are from a Fiat Topolino.
The car has an interesting history, including running the first race at Laguna Seca back in 1957.
The Unicorn was owned by John Murphy for a long time. John eventually tired of the ever stricter rules applied to vintage racers and retired the car. He sold it to Joe Puckett who kept it for a while and eventually sold it to Mike Nickels.

Click to go to the H Mod Yahoo group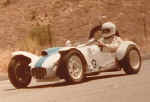 Classified Ad
Description seen in a classified ad on Race Cars Direct on June 11, 2004.
1952 Simca-Crosley H-Mod Race Car $7,500 USD
This car is known as the "Unicorn". It is a well known west coast car with many runs with VARA, SOVREN And Monterey Historics. Ex Joe Puckett. Twin Tube, Aluminum Bodied and early post-war. West coast hot-rod to road racer. Technically complete but needs restoration.