Success
Tony Loniewski won the SCCA's 2004 CSR National Championship by driving his Swift Viking to first place at the Runoffs at Mid-Ohio.
Conversions Available
The Swift Viking is designed to convert a Swift DB-4 Formula Atlantic into a C Sports Racer. Engineered by Arnie Loyning, the Swift Viking utilizes the chassis and main components of the original DB-4. By adding the extensions and new body pieces, the DB-4 can be converted to a competitive C Sports Racer.
Arnie has begun working on a body kit for the Swift .008 and .014 chassis. Estimated completion date is spring of 2005.

Established in 1976, Loyning's Engine Service, Inc. is a full service engine shop with a Superflow engine and chassis dyno. The Viking CSR is the second car designed and built by Arnie, the first being the Viking Formula Ford. The Viking FF won the Runoffs with Bob Lobenburg in 1982 and Arnie finished 3rd in 1981.

For additional information, ordering, or custom installation for the Swift Viking CSR, please contact:
Arnie at (503) 775-2999 or Loyning@aol.com or
Ove Olsson of Olsson Engineering at (847) 362-7723.
---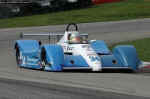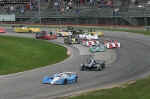 photos above by zoompics.com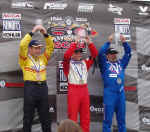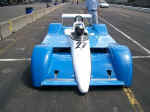 June, 2004:
Arnie Loyning is developing a CSR sports racer conversion from a Swift DB4. The Swift Viking uses a Toyota powerplant.
Mike Anderson debuted the car at Portland, OR, and won a National race on May 16, 2004. Mike qualified for the Saturday race with a 1:12.6 lap.
Mike reported,
"Saturday night we tore the transmission out and repaired it so we could run Sunday. We got the car going a little faster, qualified on pole 0.5 second faster than my Friday qualifying with a 1:12.139 lap. Wade Carter and I had a great run Sunday afternoon, leaving the field behind. Wade pressured me the whole race in his RT-41. Thankfully, I was able to get through the traffic without being held up. Wade was filling my mirrors for all but 2 laps.

A big thank you to the Loynings family for putting me in the car for the weekend, and my Dad, Jeremy and the Loynings Crew at the shop for all of their hard work."
Lee Stohr reported, "This was the first time out for the car. I'm sure Arnie will make an announcement when the car is fully tested."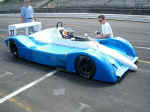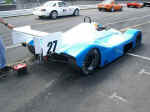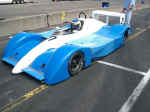 8MB mpg movie clip
from the Portland Race