SRSCCA Chassis
C Sports Racer, IMSA Lites 3
Description
"The Sports Racer SCCA (SRSCCA) and the Formula SCCA (FSCCA) are the same car under the skin, with the differences between the two versions being in the bodywork and the wings. Some of the body panels are common to both versions, as can be seen in the photos with the body removed where the panels are red (note that the nose box, shock cover panel, and tail are not common). This bodywork flexibility allows the car to be run C Sports Racer or in Formula Atlantic in the SCCA, or as a Lites 3 car in the IMSA ALMS Pro Support Series. With the number of Formula SCCA cars increasing in club racing, it is expected that eventually the Formula cars will have an SCCA class of their own; the Lites 3 class is already for SRSCCA cars only."1
Engine
"The engine is a sealed 2.3-liter Mazda 4 cylinder with twin cams, 16 valves, aluminum head and block, and electronic fuel injection, producing approximately 178 horsepower. Engine rebuilds can only be performed by SCCA Enterprises, which ensures that every engine leaving their shop is within a 3-horsepower window; this guarantees a true "driver's class", where skill behind the wheel is more important than the latest engine tweaks. The transmission is an Elite 5-speed cable-operated sequential-shift transaxle with one set of gear ratios; owner maintenance of the assembly is allowed. The clutch is a 5.5" twin-disc unit with a concentric hydraulic slave cylinder."1
Suspension
"The suspension uses pushrod-actuated springs and shocks, with an adjustable front swaybar and fixed rear swaybar. The four shock absorbers are sealed, non-adjustable Bilstein gas units; a switch to Penske rebound-adjustable shocks is likely for 2007. Camber, caster, toe, ride height, and corner weights are fully adjustable."1
Chassis, et al
"The main chassis of the car is a tubular steel spaceframe. The wheelbase is 102.5", front track is 58.5", and rear track is 55". Minimum weight with driver is 1265 for the Formula version and 1385 for the Sports Racer.
Ventilated AP Racing 10-1/2" disc brakes with four-piston calipers are used at all four corners, with a cockpit-adjustable brake bias.
Cast OZ Racing wheels are used, 8 x 13" in the front and 10 x 13" in the rear. For SCCA Club Racing, specific Hoosier slicks are required, sized 21.5 x 7.5" in the front and 22.0 x 10.0" in the rear, with Hoosier grooved rain tires used when needed. For IMSA Lites competition, the required tire is manufactured by Hankook.
The Sports Racer uses a front splitter and a single-element rear wing which are also adjustable. The Formula car uses a single-element front wing and a dual-element rear wing, both of which are adjustable.
Body panels are fiberglass and come in eight gel-coat colors: white; dark blue; bright blue; dark red; bright red; yellow; green; and black. Color may be specified at the time of chassis order."1
Specifications2
Drive Train
2.3 Liter sealed Mazda engine
Alloy head and block
Twin cam, 16 valve
Torque = 153 at 4750
Estimated 170 Horsepower
Electronic fuel ignition by MBE
Elite sequential gearbox - 5 speed.

1st = 2.41
2nd = 1.86
3rd = 1.50
4th = 1.22
5th = 1.08
Final drive = 2.75
Suspension
Advanced push rod activated system operating on wide based oval section wishbones with the latest anti-intrusion bar requirements
Alloy casting, heat treated uprights with large diameter angular contact bearings
Front anti-sway bars fully adjustable
Four (4) shock system – sealed Bilstein non-adjustable
Chassis
Multi tubular steel spaceframe extensively braced in the cockpit and footwell areas. GCR compliant.
Bodywork
Formula 1 design features of a high nose, deep side pods and an engine cover with an air intake encompassing the roll hoop
Brakes
Lightweight double acting calipers
10-1/2" diameter discs all around
Cockpit adjustable bias
Wheels
Front: 8" x 13" by OZ
Rear: 10" x 13" by OZ
Tires
Hoosier R45 compound
Front - 21.5" x 7.5" x 13.0"
Rear - 22.0" x 10.0" x 13.0"
Marked set for qualifying and race
Rain tires
Dimensions
Wheel base: 102.5 "
Front track: 58.5"
Rear track: 55"
Weight: Formula – 1265 lbs. Minimum with driver
Sports Racer – 1385 lbs. Minimum with driverr
Aerodynamics
Sports Racer

Front splitter: Adjustable
Rear Wing: Single element, adjustable
Bottom: Flat (no ground effects)

Formula

Front wing: Full width, adjustable
Rear wing: Two upper elements, lower element mounted on gearbox
Bottom: Flat (no ground effects)
Misc.
Detachable steering wheel
Van Diemen rack and pinion unit
Dry cell battery
On-board 2.5 kg fire system
Six point safety harness
Fuel tank mounted behind the driver's seat – 7 gallon
Twin high efficiency aluminum radiators with low drag coefficients housed singularly in each side pod
Price
SRSCCA; $52,900
FSCCA; $49,900
Estimates as of November 01, 2005.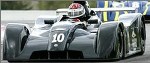 SCCA Enterprises' SRSCCA car2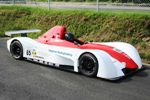 A Hagerman SRSCCA1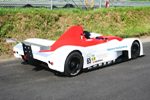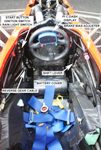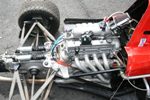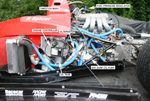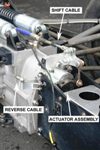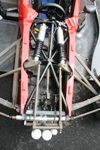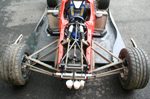 Front suspension1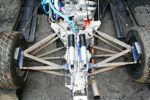 Rear suspension1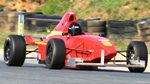 The formula car version of the chassis.1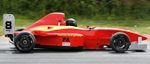 Different bodywork and wings.1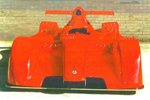 An early view of the SRSCCA.2