Introduction
Jim Bonsey's DSR car is pictured at Road Atlanta. Note the clear Lexan vertical fences running down the length of the fenders.
"The car appears to be derivative or big brother of a F500. It uses 2 stroke motor and drive belts and snowmobile technology clutches. Very sexy looking car and it should be slippery. The car has been fast at times, but the drive train seems to lack the ability to last for an entire race." Bill Maisey
The lower photos show the car's relative size to the people standing next to it.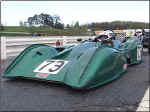 Road Atlanta, March 30, 2003



Savannah, 2002