Piranha Chassis
(The XPIT Chassis was also known as the Piranha.)
D Modified
The early cars were known as Marbons
See this external link to a great page on the Piranha "Roots".
This is a sub-page of the
AMT Piranha site.
Introduction
Engine: Corvair
Builder: William M. Schmidt Associates and the Jentzen-Miller Co., after the initial prototype by Marbon Chemical.1
"The first vehicle, called the CRV, consisted of a two-piece thermoformed plastic body mounted on a tubular chassis.

The upper half had formed-in-place bucket seats, console, arm rests, and dashboard. The bottom half included fenders, wheel wells, and full underpan. It was light and strong, and was powered by a rear-mounted, 42 hp, water-cooled Sunbeam engine."1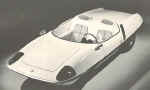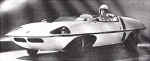 The CRV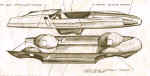 "This drawing shows the construction of the
two-piece plastic body."1
CRV II
"The next prototype was called the CRV-II and was equipped with a Corvair engine and featured a monocoque chassis constructed of Cycolac with metal braces for suspension pieces. It weighed only 1,400 pounds. The upper body received some changes and included a roll bar.
'The CRV-II was raced in the 1965 SCCA National Road Races and won the Central Division Championship in D Modified, was first in class in half of its races, and placed in the rest. The CRV-II never failed to finish a race it entered.' Note the bulges in rear body panels to allow for the larger racing tires."1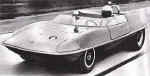 "The CRV-II included a
revised upper body and turbocharged engine."1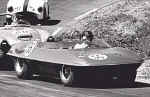 "To help promote interest in the car, AMT also offered a kit of a roadster version of the Piranha for SCCA racing. Below is a photo of all the parts included in the kit. Note the completed race car in the background.

Unfortunately, interest in the limited production car was not what AMT had hoped for. That, coupled with the cancellation of the Corvair by Chevrolet and a recession in the model car hobby, forced AMT to close the project."1