Moretti Chassis
H Modified
Introduction
"True to Etceterini tradition, the Moretti was a deliciously styled miniature Ferrari complete with egg-crate oval grille and aggressive stance. Built from 1951 to 1953 by Giovanni Moretti of Turin, the chassis was a square tube frame with suspension and drivetrain of Fiat derivation on an 84" wheelbase.
The beautiful twin-cam 750 engine was not Fiat. Like Pasquino Ermini and the Maserati brothers, Moretti elected to build his own engines. He used only three main bearings for the crank while the block and head were cast iron with the valves at a 90 degree angle. The power rated at 58 hp at 7000 rpm -- good for 46 cubic inches but not enough for 1350 lbs."1

Click to go to the
H Mod Yahoo group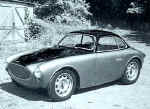 "The Moretti was another 'etceterini' that was
referred to as a baby
Ferrari for very obvious
reasons.
photo by
Mary Decker Vack"1
Other Cars
The John Biehl Special was apparently built with mechanical parts from a previous Moretti race car that he wrecked.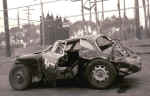 "A sorry photo of the
Moretti (750cc) owned
and driven by John Biehl."2