Lindqvist Chassis
H Modified
Double-Ender
"The 1958 introduction of the Saab 750 GT to H Modified competition in west coast sports car racers was like an invasion of aliens from another planet. These strange two-stroke engines smoked continually, idled like a chainsaw, accelerated like a NASA rocket, and if the fuel and oil were not properly blended, had all the loyalty of a prostitute.
One man, Ingvar Lindqvist, a Saab dealer from Southern California , would begin a Viking-like dominance with his Saab-powered Specials in 1958 that would continue to impact race results for seven years.
Lindqvist was quite successfully involved in production sedan racing when he decided to build an H Modified Special. His plan of attack was simple: Construct a lightweight roadster version of the 750 GT sedan, using a Porsche drivetrain in an unusual rear-engined configuration mounted in a chromemoly space frame that, except for Porsche brakes and a modified VW suspension, maximized the use of Saab production components. The Swedish Saab GT powerplant had a displacement of 748cc and a 9:1 compression ratio. Even unmodified, the engine developed 57 bhp at 4,800 rpm.
The "Double-Ender" nickname was immediately hung on this car because the front end appeared to be similar to the back end, this because only one mold was used during fabrication. The weight distribution placed the driver slightly forward of center, adding to the rather unique streamlined appearance. In competition, the 750-pound car would corner as if one rails and, under Lindqvist's guidance, generally finish among the class leaders.
The Double-Ender heralded the onslaught of a bevy of rear-engined Specials in the H Modified class."1
Later Lindqvist Cars
"It is important to note that this was the first of several Specials Lindqvist would build over the next six years, including a front-engined/front-drive roadster [pictured at the right], a Lotus 11/Saab rear-engined special and a lightweight Saab racer featuring equipment from "Red" LeGrand.
By 1960 Lindqvist was established as the man to beat in west coast H Mod competition, a posisiton he would hold until the H Modified class simply no longer existed.
Lindqvist, who today resides in Marina del Rey, California , relates that 'It's surprising that, to my knowledge, none of my cars are now racing in vintage competition.'"1


Click to go to the
H Mod Yahoo Group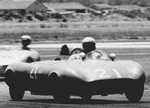 Photo courtesy of
Ingvar Lindqvist1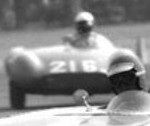 Pomona 1960, following
the Fairchild2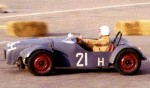 Lindqvist's front engine,
front drive, Saab powered
roadster at Del Mar, 19613