Ligier Chassis
C & D Sports Racer
JS49 - LMP3
[ Ligier Automobiles' own JS49 webpage ]




"Well known French outfit Ligier, has returned to motor racing. Last seen selling out their F1 team to Alain Prost just months after winning the Monaco Grand prix, Ligier have not really gone anywhere, busy creating and selling around 8,000 road going vehicles a year such as the Ambra designed as a car for teenagers. In July 2004 Guy Ligier and the Ligier family purchased racecar constructor Martini with the intention of getting firmly stuck into motor racing again, two single seater chassis followed, the Ligier Mk84 racing school car and a Formula Three car. Now Ligier has turned its attention to prototypes, and has recently unveiled the JS49 LMP3. On its debut the car finished second in a highly competitive field.

'We decided to go down the prototype route because it is a growing area of the sport and we could not ignore it, gentleman drivers feel safer in this class of car'

Designed and built by Guy Ligier and the Martini company he bought in 2004, the JS49 is aimed squarely at the rapidly growing band of amateur racers in series such as SCCA C Sports, James Tucker's BritSports and most importantly Eric Van de Vyvers VdeV series. The new car features an Aluminium monocoque, wishbone suspension, a Sadev 6 speed sequential gearbox and is propelled by a dry sumped 240bhp two litre Honda VTEC engine on Magnetti Marelli management.

Aerodynamics were developed using a combination of CFD, full scale wind tunnel work and coast down testing and there are some interesting details, such as the adjustable dive planes, lip around the front wheel arches and the near vertical windscreen. Some of the look of the car is similar to the Porsche RS Spyder with the large front inlet and side exiting exhaust just ahead of the rear wheel.

Development of the car continues with only one JS49 having been built so far, but the order books are already busy. At a cost of just over €70,000 this car is priced squarely to take on the likes of Norma, Chiron and Radical. There could be applications for the chassis in SCCA C and D sports also.

Ligier are the first big name to construct a new generation baby prototype though there are rumours of other major racecar constructors looking at dipping their collective toes in this increasingly lucrative market. Lola, Riley and Allard have all been linked to LMP3 projects, although these rumours are thought to be little more than speculation."1
Specifications File


This is a

Adobe Acrobat pdf format file
Contact
On November 7, 2006,

Steve Shelton Jr. reported that, "Having been the self proclaimed US motorsports advisor for Claude Altvatter of LME, I can tell you that the first JS49 is in the Port of Miami and has already been sold. LME has ordered another car and we are aiming to get it homologated with the SCCA. My understanding is they are the exclusive North American distributor for the Ligier product(s). The first and subsequently the second car will come with a 2.4 liter Honda automotive engine. I am trying get the new owner to allow us to take the car to the PRI show in a month or so. If anyone has any interest in a car, please contact me."

Debut race,
October 28, 2006.2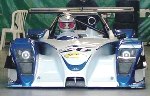 Ready for a journalist's test drive.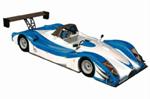 Pre-production CAD rendering.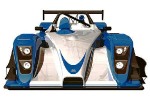 "Pre-production press images generated in cad turned out to be incredibly accurate, note the twin dive planes on the nose of the car."1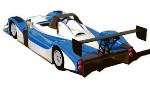 Rear CAD image.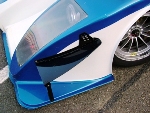 "Single adjustable diveplane / winglet replaces the twin unit in the pre production renderings. Aerodynamic development of the JS49 is continuing and the car pictured is not yet final."1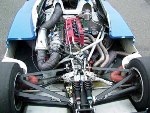 "Rear end bodywork missing, the cars wishbone suspension and layout is typical of LMP design and reminiscent of Formula Three. Shock absorbers by Koni sit atop the Sadev transmission. Note twin radiators in the sidepods."1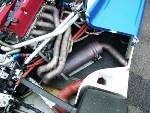 "Detail of the JS49's exhaust system, which exit just ahead of the right rear wheel. There is space in the chassis to accommodate other engines including those that require twin exhaust system such as the RST and Radical Macroblock V8's. Note brake ducting on the lower portion of the image."1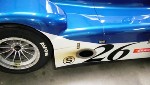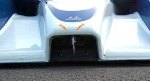 "Single under nose brake front duct similar to Dallara LMP and Porsche RS Spyder."1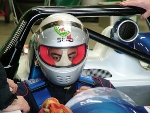 With a well fitting seat, the driver sits lower.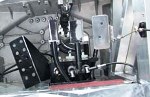 "JS49's pedal box accommodates taller drivers with big feet, note the bulkhead and aluminium monocoque chassis."1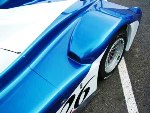 "The rear brake duct inlet forms the front portion of the wheel arch."1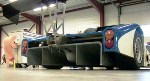 "Fairly conventional diffuser has twin strakes and a bulge to accommodate transmission. As with most cars of this type the floor is flat."1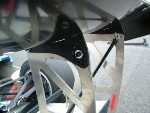 "Rear wing adjustment is very similar in character and design to the Le Mans built Courage C60 and 65."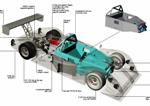 Also see the Specs file