Fibersport Chassis
H Modified
Introduction
"The original Fibersport was built by John Mays in the early 50's. This was a highly modified Crosley running gear and power plant. There were many innovative engineering concepts incorporated that later were used as standard practice in the automotive industry. These innovations included Ram Air, Traction Bars, Wide Base-Low Profile Tires, Swirl Valves, and Tuned, Turbulent Flow Intake Manifolds.
Bill Mays, designed and built fiberglass mold and body in 1957 and started racing in 1958 and won [his] first four races. This was the first win at Lawrenceville, IL. This car went on the track at 800 pounds with 76 HP."2
Bill's Background
Bill relates that, "My first automotive design was in the early fifty's when I designed and built a scale model car for the Fisher Body Craftsman Guild competition, receiving honorable mention. This evolved to Wheel Vehicle Mechanic in the USMC in 1954 (at the age of 17). From there it became SCCA race cars and engines, Mercedes Benz mechanic, inventor, experimenter, and race driver. Design and development experience includes intake manifold design, exhaust design and tuning (including megaphones, resonating cans, etc.), suspension systems, and other novel features for drag racing, go karts, and SCCA road racing."2
Bodywork
Fibersports bodywork was also used on at least one other car. The SIAM chassis used a Fibersport body that was slightly modified to have a rear boot.
Lil Fortyone
"You came a long way 'Lil 41'. You learned from your forefathers what it took to be a winner. Your Great Grandfather "Mr. Crosely Supersport" would have been proud of you. We don't want to forget he blazed the trail for all to follow. He ran Elkhart Lake when it was road course around the lake and through town. He had his problems. His rear end locked up and he couldn't finish. However he showed great bravery and with modifications and improvements he could be competitive.
Your Grandfather, Father, and even yourself experienced injuries and maladies that were eventually overcome. Why, your Grandfather only had 3 gears and had to have a Morris Minor transplant.
Their little 4 cylinder overhead cam engines had to be balanced, add more oil capacity, and it was thought they had emphysema. You guys needed more air so they tried a blower. That didn't work too well and after much experimentation you were fitted with a new manifold and then could run long and hard on less fuel.
All of this power caused a few problems. One of which was you kept breaking your rear axles and sometimes really messed up your body in doing so. Slimming your axle took care of that problem.
Your body went through growing pains also. The heavy metal fat was replaced by a new fiberglass skin. This helped you lose weight. You got a fancy headrest, fuel tank, and a single cute little door. Then there was your frame, A hole here and a hole there really helped you corner.
Your ancestors taught you how to run courses like Road America, Wilmont Hills, St Charles, and Lawrenceville. Don't forget their stint in the Air Force at places like Omaha, Austin, Rantoul, and Columbus. They challenged the big boys many times and showed you how to beat them.
You had various drivers, some good , some not so good, but you really only performed your best for one. He could get the best out of you, I would guess because he raised you.
Well 'Lil 41' you did good and will always be remembered as the Fibersport, The H car that was darn hard to beat."4


Click to go to the
H Mod Yahoo Group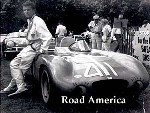 Bill Mays at Raod America, 1958.2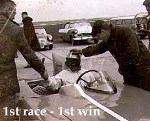 This was the first win at Lawrenceville, IL.2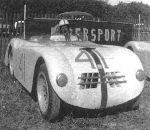 One of 14 built by Bill and John Mays.
Submitted by Barry Seel.2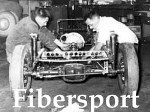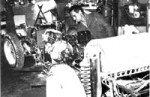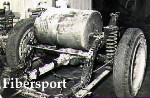 The three photos immediately above are from Bill Mays' site2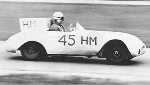 This is believed to be a Fibersport. "Richard Metker, Champion in Class H Modified", Meadowdale International Raceway5