Chaparral Chassis
Can-Am, FIA
On Display
Jim Hall's famous cars as photographed by John Allen at the museum in Midland, Texas.
"I was at the grand opening of the Chaparral museum (actually the press day prior to the public opening) and it is AWESOME! I can't see any other reason to go to Midland (no offense to those who are fom there), but if you are in the area you MUST see this exhibit.

I was lucky enough to be in the museum when no body else was there and have a LOT of very nice pictures. At the press day there were tours of the original Chaparral garage/shops, Rattlesnake racetrack and one-on-one discussions with a huge number of race drivers (Hall, Elford, Redman, Hill, DeFarran, Gurney....). My most memorable moment of the trip was later at the Hilton bar (while I was trying to wind down after the events) the entire 'head table' showed up for drinks! I was able to hang around and listen to a lot of tall tails that night!"

John Allen
Tacoma, WA

go to Page 2
go to Page 3
go to Page 4
---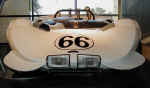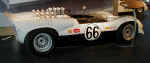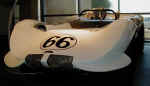 August 2005 Monterey Historics
Chaparral to be Featured Marque, Leading a Tribute to "Great American Specials" at 32nd Rolex Monterey Historic Automobile Races Presented by Chrysler

August 19-21 Event at Mazda Raceway Laguna Seca to Honor American Ingenuity

MONTEREY, Calif. (January 22, 2005) - Chaparral, one of the truly great names in American racing history, will be the Featured Marque of the 32nd Rolex Monterey Historic Automobile Races Presented by Chrysler August 19-21 at Mazda Raceway Laguna Seca, Steven J. Earle, founder of the event announced today. The legendary American marque will be part of the event's overall tribute to the "Great American Specials."
While the major manufacturers have long been the dominant force in automobile racing, individual efforts in the American tradition of championing the underdog have produced special cars to challenge the "big guns" over the years. Perhaps, no one represented the ingenuity of this industry more than Jim Hall and Chaparral Cars.

Hall, along with fellow racer Hap Sharp, started a small racing team in 1962 in Midland, Texas, naming the team Chaparral, the Spanish word for road runner, a common bird in West Texas. They designed, built and tested a series of innovative and powerful race cars on a private two-mile test track behind their garages named Rattlesnake Raceway.

It is a bold statement, but nonetheless true, to say that Hall revolutionized the sport of auto racing in the 1960s. He introduced the first movable wing in 1965 and his work with aerodynamic wings, ground effects and lightweight construction materials transformed auto racing.

At a time when many of the great race cars were designed and built in Europe, their success gave American race fans a team to cheer for. While Chaparral Cars enjoyed many victories all over the world, maybe the most prestigious win came when Johnny Rutherford drove a Chaparral 2K to victory in the 1980 Indianapolis 500.

"Jim Hall and his Chaparral cars certainly set the standard in racing during their time," said Earle. "And that was around the world, not just in the United States. Their innovative design, preparation and presentation caught the imagination of race fans across the country that grew into a true fan club. They certainly represent the ultimate in American specials."

Most of the original Chaparral cars are currently on display in a special Chaparral Wing of the Petroleum Museum in Midland, and will be appearing at the event this August.

"The first cars, known as the Chaparral 1, were designed and built by Troutman and Barnes in California and are now owned by private enthusiasts" said Earle. The cars designed and built by Chaparral Cars in Midland, known as Chaparral 2s, are now part of the Petroleum Museum in Midland. I am very grateful to them for their support in making this tribute possible."

Names such as "The Ardent Alligator," The BuMerc, ONO, "Old Grey Mare," Tahis Special, Ol Yeller, and Baldwin Special achieved their place in motor racing history as did Miller, Kurtis, Edwards, Cunningham, Scarab and Chaparral. The creative talents and the motivation to win of individuals like Max Balchowsky, Roger Barlow, Sterling Edwards, Frank Kurtis, John Fitch, Jack Hagemann, Dick Troutman and Tom Barnes, Ken Miles, Miles and Sam Collier, Briggs Cunningham, Brooks Stevens, Lance Reventlow and Jim Hall, have brought a uniquely American element to the world of motor racing.

"The best of the American specials are treasures sought after by individual collectors and museums alike and an historic gathering of these unique machines is anticipated for what has become the premier vintage event in the U.S.," said Earle, whose organization, General Racing, Ltd., founded the Monterey Historic Automobile Races in 1974.

Featured displays will include the Rolex Moments in Time, presenting eight significant cars representing important moments in racing history. The Chrysler Heritage and Product Displays will include racing cars from its past as well as concept cars of the future. And, other manufacturers will again make their presence felt with unique presentations in the paddock.