Berkeley Chassis
H Modified, J Production
Intro
"The Berkeley automobile was produced from October 1956 to December 1960 in Biggleswade, Bedfordshire, England. The construction is of fiberglass which makes for very light vehicle with a total weight of around 700 pounds on average. Engines are of the motorcycle type, chain driven to an open differential, front wheel drive."1 [ Rob's Berkeleys ]
Berkely 500 - Excelsior
Rick Bekrich reports, "I bought this Berkeley 500 (492cc) with the Excelsior three cylinder two stroke new for about $1,000 (yes, those were the days!).
The engine (actually three single cylinder engines with a common crank?) was then modified with tuning tips supplied by the factory. The 'woodpecker holes' in the fibreglass body were added to reduce drag (and lighten it?).
I can't remember everything we did, but I do remember hand filing the bottom lips of the pistons in line with the cylinder ports to alter the "valve" timing, and un-ending playing with fuel mixtures.
Despite everything I'd read about 2-strokes absolutely needing exhaust restriction, this one turned faster laps with the three straight-out 2" dump pipes, each about a foot long.
Rear suspension was altered (remounted) to reverse the camber. I could walk around the inside of the Porsche crowd in the hairpin at Meadowdale. However, they'd blow me off moments later. I first ran with only a 'post' roll-bar (lax rules in those pre-Snell days) under the headrest - the headrest was aluminum, scrounged from an Austin-Healey 100-4.
The Berkeley 500 used a chain drive to the front wheels and had a gated four-speed bike tranny. Once off the line, it could be slam shifted (no clutch needed to go up or down) while keeping the pedal to the metal... or fiberglass.
Tires were 520 X 12 Michelins and lasted well beyond two track seasons and countless gymkhannas and motorcrosses. It was a cheap, fun, way to go racing... 'back in the day.' "3
Berkely B95
Engine: Royal Enfield
Builder: Lou Ames
Current Owner: Gerron Hite of Austin, TX
Berkeley - Triumph
Engine: Triumph
Builder: Robert Davis
Current Owner: unknown / lost
Listed in Joe Puckett's book Big Men in Little Cars (which is out of print).


Click to go to the
H Mod Yahoo group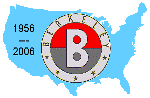 [ Cold Plugs' Berkeley Sportscars in the USA ]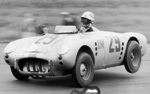 Rick Bekrich and his Berkeley 500, 1961 at Indianapolis Raceway Park in Cleremont (now known as O'Reilly Raceway Park at Indianapolis)3
---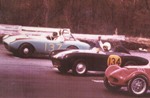 Ed Wright and Bill Harding, of Richmond, and on the starting line with another H Mod car, one minute before the green flag. June 1959 at Marlboro Raceway, Maryland.5
---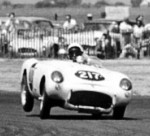 Jim Fox, Hourglass Raceway/Event, San Diego, California, 1958.5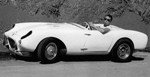 "Jim Fox drove his Berkeley around town, to the track, raced it, and drove it home."4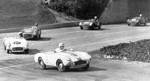 Jim Fox, Pomona Raceway, California, February, 1958.5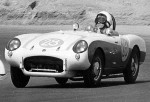 Jim Fox, Riverside Raceway, California, February, 1958.5
---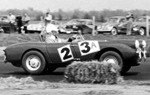 Milton E. Schafer, Harewood International Raceway, May, 1958.5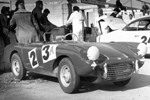 Milton E. Schafer, Harewood International Raceway, May, 1958.5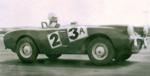 Milton E. Schafer, Harewood International Raceway, May, 1958.5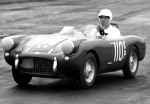 Milton E. Schafer, Lake Erie International Raceway, 1958.5