ADR Chassis
C & D Sports Racer
Sport II for CSR
December 18, 2004
Aurora Motorsports will be importing the ADR Sport 2. All of the first cars will come with Hayabusa engines with paddle shifters, drive shaft, differential, mechanical reverse, larger F3000 wheels and tires, light kits, and some new chassis changes. Later the cars will be offered with a Honda B16 engine with Hewland gearbox as an upgradable option. These cars are very nice with a lot of F2 and F3 technology.
Rod Whedbee of Aurora Motorsports has ordered two ADR Sport 2 cars from ADR Engineering, UK. will be racing one of the cars beginning in February 2005 and the 2nd car will be available for sale to the first US customer. Both cars are in production and will be significantly less than a Radical. Pricing is available upon request.
The Sport 2 "only weights in at 411 kilos (904 pounds). Even with a 200 pound driver we will have to bring the car up to minimum weight for CSR. This allows us to move some weight around and put it where we need it. ADR had also already engineered the Hayabusa powered car and we were ready to proceed in getting the cars to the US. I've also been working with SCCA on getting the first cars homologated," reports Rod Whedbee.
January 31, 2005
"We have delayed the first couple of cars a few weeks while the chassis jig and new body is finished. We felt our customers would rather have the 2nd generation Sport 2.
The chassis changes included adding a few bars to increase strength and changing the roll hoop to a lighter and stronger material. If you look at the CAD drawings [on the right] the bars in [medium] green were changed. Also the termination points that are open [at the rear] are where the bulkheads attach. The rear bulkhead is changeable to accept either the motorcycle rear end or the FTR gearbox for automotive based powerplants. Our engines are built here in South Carolina at KWS Motorsports." Rod Whedbee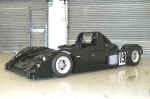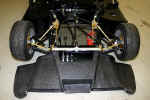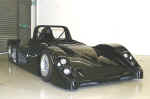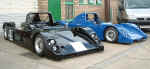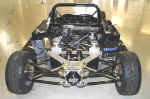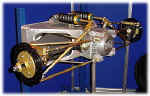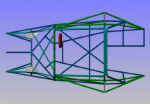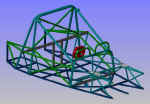 Specifications from Rod
Engine: 1300cc, 1394cc, or custom Hayabusa
or automotive based
Gearbox: ADR (Hayabusa), Hewland (automotive)
Drive: Direct shaft
Reverse: Mechanical reverse
Body: Lightweight Fiberglass
Wheels:
Center lock ADR 13"X8" front, Center lock ADR 13"x10" rear
Brakes: Wilwood 4 piston front and rear
Tires: Avon
Chassis: Steel Spacefram with FIA approved Roll cage
Fuel tank: 14.5 US gallons = 55 liters, FIA/SCCA fuel cell
Cockpit: Moulded Driver Seat, Six Point Race Harness,
Sequential Steering wheel mounted paddle shift,
Reverse Engagement Lever, SPA Fire System,
Driver/Passenger Carbon foot boxes
Instrumentation: ADR steering wheel Display
Steering wheel: Momo
Weight: 906 lbs = 411kg, without driver
Price: Starting at $42,500 roller, Starting at $47,500 complete
Car information
The ADR Sport II is an all-new true 2 seat capable car, which was partially introduced at the January 2004 Autosport show in England. The car was officially launched and exposed to the press on February 21, 2004 at ADRís Facility in England with several representatives from MG/Rover and Hewland. The car features a computer designed Chassis using Catia software and Unigraphics Finite Element Analysis as used by F1 teams. After the February 21, 2004 launch, the car was scheduled for wind tunnel testing at Mira Wind Tunnel in England, then track testing.
The standard version Sport II features full width double roll bars, 6 Point Safety Harness, Double Wishbone inboard Pushrod front and rear suspension fully Rose Jointed, GAZ Double Adjustable Steel Body Dampers, Nitron Springs, AP Master Cylinders, 4 Pot Aluminum Wilwood Brake Calipers, Cross Drilled 265mm diameter Rotors front and rear, LM 25 Cast Aluminum heat treated uprights which are interchangeable side to side, Titan Aluminum Steering Rack & Pinion, GRP 6 piece body with front and side impact structures, GRP Rear Wing, rear Venturi/Undertray, 7x13 front and 8.5x13 rear ADR 3 piece Aluminum Center Lock Wheels with Avon Racing Slicks, ATL Fuel Cell, 5 speed Hewland LD 200 Transaxle and Digital Display Dash.

Specifications
(Listed in the March 2004 edition of SportsCar magazine.)
Chassis construction:
Steel Tubeframe.
Body construction:
GRP / Carbon Kevlar.
Engine: MG / Rover 1800cc automotive or other.
Front Suspension:
Double wishbone / pushrod.
Rear Suspension:
Double wishbone / pushrod.
Shocks: GAZ.
Springs: Nitron.
Wheels: ADR 3 piece center lock.
Brakes: Wilwood.
Gearbox: Hewland 5 speed.
Anti-Roll Bars: Blade front and rear.
Instrumentation: ADR digital dash.
Special Features: Two seater; Titan aluminum steering; 5 piece body; steering wheel digital display / logger option.
Changes for 2004: New car.
Prices: $33,000 and up (roller), $43,750 and up (complete)
Contact
Rod Whedbee
Aurora Motorsports
210 Hill St, Number 19
Salisbury, NC 28144
p: 704-798-6959
email: rodwhedbee@bellsouth.net
web: www.auroramotorsports.org